Millions of dollars will be spent on high-tech equipment and employing skilled firefighters in a bid to reduce the risk of bushfires again ravaging parts of Victoria.
The Andrews government will allocate more than $500 million of the next state budget – due to be handed down on May 20 – to prepare the state's bushfire defence.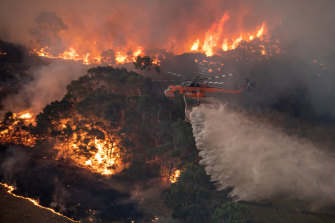 The budget boost will also include $133 million for new digital radios for Forest Fire Management Victoria staff, to help them communicate with other emergency services when working in remote areas of the state.
The government will also allocate $339.5 million to continue to fund firefighters from Forest Fire Management Victoria by providing fire towers, equipment and up-to-date technology.
Loading
The government has also responded to calls by the Inspector General for Emergency Management for greater coordination between fire authorities to reduce the risk of bushfires on public and private land.
In response, the state government will provide more than $21 million for a new Office of Bushfire Risk Management to bring together land and fire managers.
A further $15.6 million will be spent on fuel management targeting long grasses and other flammable undergrowth, particularly along major road and rail corridors.
Energy Environment and Climate Change Minister Lily D'Ambrosio said the investment was a way of thanking the state's firefighters for their incredible work.