The Biden administration last week expanded a Trump-era list of Chinese companies that Americans can't invest in because of purported links to the Chinese military and surveillance. Companies on the list include telecom equipment maker Huawei and Chinese oil company China National Offshore Oil Corp.
On Tuesday, the Senate passed a bill that aims to boost US semiconductor production and the development of artificial intelligence in the face of growing international competition. The bill would also ban the federal government's use of Chinese-made drones.
Biden also revoked a Trump order from January that had banned transactions with digital wallets Alipay and WeChat Pay and six lesser-known Chinese apps over unspecified data security concerns.
Loading
Courts had blocked the Trump administration's efforts last year to ban wildly popular app TikTok and the main WeChat messaging service. But a national-security review of TikTok by a government group called the Committee on Foreign Investment in the United States is ongoing. The committee had set deadlines for TikTok to divest its US operations, but such a sale never happened.
Last year, the Trump administration brokered a deal that would have had US corporations Oracle and Walmart take a large stake in the app on national security grounds. Oracle didn't return requests for comment. Walmart declined to comment.
The Biden administration earlier this year sought to delay its legal defence of Trump's attempts to ban TikTok and WeChat as it reviewed national security threats posed by Chinese technology companies. The US Court of Appeals for the District of Columbia Circuit has put on hold a case challenging Trump's TikTok divestment order.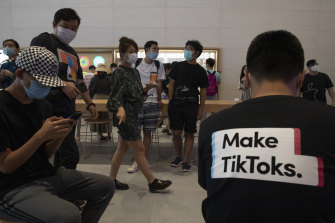 A cybersecurity and privacy analysis of TikTok published in March by the internet watchdog group Citizen Lab found no evidence of malicious behaviour and said TikTok's practices of collecting personal data and tracking users' behaviour were no worse than other major social platforms such as Facebook.
"Our research shows that there is no overt data transmission to the Chinese government by TikTok," the report said. It added that TikTok's service did not contact any servers within China, but it was still theoretically possible that servers outside China could later transfer user data to China-based servers.