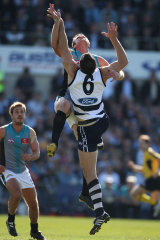 Until Cassisi, who had at various times during the game got the better of Ablett, hushed the capacity crowd as if it was an orchestra and he the conductor. The denouement was a left-foot running goal that was created out of a tackle Toby Thurstans laid on Henry Playfair on the edge of Port's 50-metre arc. As the ball fell loose, Cassisi swept by and did what Brett Ebert had done the previous week, which was to win the game with only a few grains left in the hourglass.
There was time enough for the ball to be returned to the centre for a bounce but no more and, it seemed, an entire stadium drew breath.
The other story told yesterday was about Port Adelaide.
The Cats? They went into the match without mid-fielders James Bartel and Joel Selwood and lost Cameron Ling before the match to a hamstring twinge. They were below their best without those front-line centre-square players and met a side that, for personnel and form, could scarcely be in stronger health.
With Kane Cornes demolishing Joel Corey and Cassisi largely keeping Ablett from terrorising the game with his touches, there was too much asked of Geelong's second string midfielders who couldn't compensate with either volume or quality of possession. Especially so against a side that is the most potent scoring outfit from stoppages in the game and has a partnership between its ruckman Brendon Lade and most creative midfielder Shaun Burgoyne that, at times, appears to be telepathic.
The tale of Port yesterday, though, wasn't one of good fortune or of being strong for a day where the opposition were weak, although both of those things contributed to the outcome. Port coach Mark Williams had his assistant, Phil Walsh, scout the Cats for a month. They were prepared. Geelong found few, if any, mismatches to exploit and were unable to put a stop to either Shaun Burgoyne or Chad Cornes.
The Port small forwards were potent and a challenge to the Matthew Egan-Matthew Scarlett-Tom Harley set-up that the Cats prefer in defence and Darren Milburn, while solid, was kept honest by a defensive Port half-forward in Tom Logan.
Yesterday's five-point win was the fourth Port has registered in five games decided by 10 points or less this year. They are to be trusted in the tight ones, something not to be dismissed in September.
DETAILS
PORT ADELAIDE
5.2 9.3 13.8 16.10 (106)
GEELONG
2.1 8.4 10.7 15.11 (101)
Loading
GOALS
Port Adelaide: S Burgoyne 3, Ebert 3, Motlop 3, Tredrea 2, Salopek 2, Westhoff 2, Cassisi.
Geelong: S Johnson 3, N Ablett 3, Stokes 2, Mackie, Varcoe, Kelly, Corey, Mooney,
G Ablett, Chapman.
Loading
BEST
Port Adelaide: S Burgoyne, K Cornes, Lade, C Cornes, Salopek, Thurstans.
Geelong: G Ablett, Scarlett, Mackie S Johnson, Enright, Ottens.
UMPIRES
James, Kennedy, Head.
CROWD
24,331 at Skilled Stadium.