The Melbourne couple who drove to Queensland before testing positive for coronavirus might have had a permit to leave the state but close to 50 other people have been fined for "blatant" breaches of travel restrictions during the lockdown.
The travellers have sparked a multi-state investigation into their route after they left Melton on June 1 and travelled via NSW before testing positive for the virus in Queensland this week.
Victoria Police Chief Commissioner Shane Patton said while Melbourne was subject to lockdown restrictions at the time, initial investigations indicated the pair may have been travelling out of Victoria legitimately.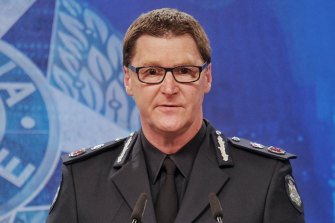 "It is a matter the Department of Health is looking into and we're working with them and with Queensland Police, but it's very early to make assumptions as to what has happened. What I've been broadly advised is that there's a possibility in fact [the woman] was moving house and legitimately was able to go to Queensland," Mr Patton told ABC Radio Melbourne.
"Whether she was aware of being positive for COVID before she left or not is still being determined.
"The message is, let's not make any assumptions and let's let the Department of Health work through whether or not this may have been an unfortunate series of events."
Government officials from Queensland, NSW and Victoria planned to meet on Thursday as part of the investigation into the Victorian couple's movements and discover whether or not they had a legitimate reason to travel.
Their source of their infection is yet to be confirmed but Victorian authorities will conduct a contact tracing interview today.
Here's a little more from the medical regulator's weekly safety report, which revealed one further death as a result of the clotting disorder linked to the AstraZeneca vaccine.
A panel of experts reviewed two other deaths that happened shortly after people were given the AstraZeneca vaccine.
A 55-year-old NSW man died eight days after being vaccinated. He had blood clots in his lungs, but did not meet the diagnostic criteria for the rare clotting condition linked to the AstraZeneca vaccine.
The Vaccine Safety Investigation Group, which met on June 7, said it "could not conclusively determine if the patient's death was related to the vaccine".
The group also looked at the death of a 78-year-old man from Western Australia, who died of multi-organ failure six days after receiving the AstraZeneca vaccine.
The man had signs of capillary leak, a condition often seen in critically ill patients but also noted in some overseas patients following vaccination.
"From the information available, the expert group was unable to establish a link between the vaccine and this patient's condition as they could not rule out other causes," the TGA said.
"We recognise the devastating impact of these deaths for the families and loved ones involved and extend our sincere condolences."
One more post from today's Victorian press conference.
The fact that gyms, along with dance studios, will remain closed while other businesses open up tomorrow has caused plenty of angst for owners and customers alike over the past 24 hours. Cooped-up Melburnians are keen to return to exercise regimes that can be difficult to replicate elsewhere in the midst of a wet Melbourne winter.
Acting Premier James Merlino reiterated yesterday's comments from Chief Health Officer Brett Sutton that gyms, dance studios and nightclubs remained "higher risk" settings but deferred to deputy Chief Health Officer Allen Cheng to answer the question.
"We had a similar situation last year when we were trying to open up," Professor Cheng said.
"We made the judgement that we want to open up lower-risk settings first, particularly when we have active cases.
"What defines high-risk settings? It is the same as it always has been. Time, place, people and space. The number of people, what they are doing.
"When there is exercise and heavy breathing, that is something that is known to propagate the virus, and then the number of settings such as ventilation.
"That defines a high-risk setting. We need to draw a line somewhere and say these ones are lower risk, and then these ones are higher risk [and] they need to open later."
A woman with a severe form of the rare blood clotting syndrome linked to the AstraZeneca vaccine has died, the medical regulator says.
The 52-year-old from NSW had a blood clot in the brain, the Therapeutic Goods Administration said in its weekly vaccine safety report.
"We extend our sincere condolences to her family," the TGA said.
Three other cases of the rare clotting disorder – called Thrombosis with thrombocytopenia syndrome (TTS for short) – were also confirmed in the last week.
There was one case in a 77-year-old man from NSW, one in a 70-year-old man from South Australia, and another in an 87-year-old South Australian woman.
A further four cases were classified as probable, taking the total number of the rare clotting cases to 48.
The COVID-19 emergency measures that ban overseas travel and cruise ships have been extended until mid-September.
The human biosecurity emergency period has been in place since March 18 last year, and was extended by the Governor General today until September 17.
Health Minister Greg Hunt said in a media release the extension was informed by specialist medical advice from the Australian Health Protection Principal Committee and Chief Medical Officer Professor Paul Kelly.
The committee determined the COVID-19 situation overseas continues to pose "an unacceptable risk to public health".
The emergency declaration, made under the Biosecurity Act, gives the Commonwealth powers to take any necessary measures to prevent and control COVID-19.
Those measures include restrictions on leaving Australia, a ban on cruise ships entering Australian territory, and mandatory pre-departure testing and mask-wearing for international flights.
A spokeswoman for the minister said those measures have helped protect Australia by preventing and controlling the spread of COVID019 within the country.
The government will continue to review the measures, she said, and they can be changed or repealed at any time subject to health advice.
Australia's Chief Medical Officer has officially lifted the hotspot declaration over the Greater Melbourne area.
The hotspot was declared for a week from May 28 before it was extended on June 4 until 11.59pm tonight.
With the tens of thousands of negative COVID-19 tests, links to previous cases in most new ones, and an easing of restrictions, Professor Paul Kelly decided the hotspot did not need to extended any further.
It means federal financial aid for Melburnians will end. Under an agreement reached by National Cabinet, some people who can't work due to a temporary lockdown are eligible for up to $500 a week in support.
But that support is only available if the lockdown lasts for more than a week, and if a federal hotspot is also declared.
Unveiling the plan last week, Prime Minister Scott Morrison said he wanted the Chief Medical Officer to decide the hotspots rather than leaving that to states or territories.
"Where it comes to federal taxpayer money in place, we will be relying on the medical advice of the Chief Medical Officer," Mr Morrison said at the time.
Our Arts editor Nick Miller filed earlier on an open letter members of the arts, entertainment and hospitality industries wrote to Victorian authorities, pleading for a roadmap or timeline to "bring Melbourne back to life".
Acting Premier James Merlino was asked about this at this morning's press conference. Here's what he had to say:
"We have restrictions, these are difficult, that's why we announced the business support package," he said.
"We will engage with the live music industry, hospitality industry. The settings we can move to from 11.59 tonight means we can have hospitality, live music venues open at certain density limits and caps.
"We further eased that for regional Victoria. That sends a signal to the live music industry and hospitality, we want to get through this period as quickly as we can but we have to do it safely."
Nineteen of the state's COVID-19 testing centres have been suspended after last night's wild weather.
COVID-19 testing commander Jeroen Weimar said he was hoping they would be up and running again soon.
"If you are getting tested today – and I hope you are if you are symptomatic – check the website," he said.
"Vaccination stations are up and running at this point. We had a slightly quieter day the last few days. Anybody who is eligible to be vaccinated, please come forward.
Mr Weimar also said authorities had last night contacted all primary close contacts isolating in areas at risk of floods.
"[We] gave them advice on procedures should they need to be evacuated and how to do that safely," he said.
"We will liaise with anyone in that situation, especially in vulnerable locations, as the weather takes hold.
"People who need to check property in regional Victoria, there are specific guidance on the website and I will make sure that is in the CHO advice this afternoon."
The Age is publishing this live blog free for all readers as a public service – all Victorians need access to reliable, factual information about the COVID-19 outbreak and the impact of lockdown.
We know many Victorians are going through tough times, but if you can, consider a subscription to The Age. Journalism is expensive.
Now more than ever, Victorians deserve locally produced, high-quality, fair and accurate journalism. Sign up here.
Victoria's COVID-19 commander Jeroen Weimar has admitted there are still many unknowns about the Melbourne couple who drove to the Sunshine Coast via New South Wales before testing positive in the last 24 hours.
"We are very concerned about this and the focus of last night and this morning is to get as much information as possible, to understand their movements and to understand their potential source of acquisition," he said.
The couple were first interviewed by Queensland health authorities and then NSW, with Victorian contact tracers to speak with them later today. It's still unclear how the couple became infected.
Early suggestions are that they were moving house and therefore would have been permitted to leave Victoria's lockdown to travel interstate, but Mr Weimar said that was yet to be confirmed.
He said he was "not going to speculate" on whether they could be fined across three jurisdictions – Victoria, NSW and Queensland – if they were found to have left without an acceptable reason.
"With all due respect to the individuals concerned, there's a lot of information that we're all trying to get from them about their movements," Mr Weimar said.
Testing indicates they became infectious around the time they left Melbourne on June 1, which Mr Weimar said likely limited the number of exposure sites in Victoria.
The only location of concern so far was Craigieburn Shopping Centre, because one of the couple had checked in there with a QR code on May 23. Nine cases in the current cluster have been linked to the shopping centre.