Parramatta, Newcastle and Gold Coast have signed on to take part in the NRLW competition which will expand from four to seven weeks this year.
On Friday morning, NRL boss Andrew Abdo announced the number of games will increase from seven to 18 in 2021, with an objective to have eight teams next year.
The majority of the matches will be played as double-headers ahead of the men's games to maximise exposure.
Abdo said players could expect to see a significant increase in payment with the NRL set to sign 144 NRLW players in comparison to 88 last year.
"This is an incredibly exciting day for the sport," Abdo said.
"We want to make sure we keep moving with things that are really strategically important to the game."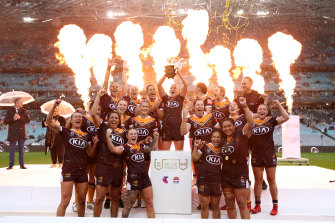 The Warriors, who have taken part in the competition since its inception in 2018, have pulled out this year, but plan to be back for 2022.
Given the Warriors have been based on the Central Coast this year and last due to COVID-19, Abdo said participating in the women's game this year would prove "too much of a train" for the club this year.