"His life and the lives of his beloved three girls – Vivian, Jessica and Annabelle – ending in a flame-engulfed vehicle on the side of the highway makes absolutely no sense and continues to haunt me and my family."
He said he took little comfort in "knowing they are together and always will be".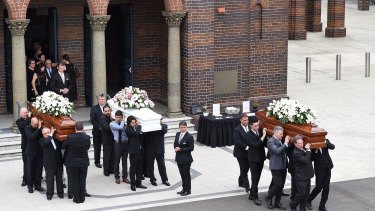 Mr Ponticello said his sister and brother-in-law – lovers of art, cinema, theatre and music – had recently retired as a teacher's aide and engineer and were looking forward to moving into their dream apartment in Sydney's inner-city.
Jessica, a graduate of the National Institute of Dramatic Art, was making strides in her acting career and had appeared in Home and Away, the ABC series Mystery Road, and a feature-length movie that was released after her death.
Annabelle, who radiated kindness and loved to laugh, had started a career in early childcare, which she excelled at due to her gentle and caring nature.
"Vivian, Lars, Jessica and Annabelle are deeply missed, and will always be remembered in our hearts until we reunite," Mr Ponticello said.
He gave his "heartfelt thanks" to everyone who assisted at the crash scene, including those who risked their personal safety "dragging both Jessica and Annabelle from the wreckage, which gave the girls a chance of survival".
Mr Ponticello said he hoped the inquest resulted in "systemic improvements" equally focused on the wellbeing and management of drug-dependent individuals and the safety of ordinary people who need to feel secure as they go about their daily lives.
Lars Falkholt's siblings, who watched the inquest from Sweden, said in a statement the family they loved and cherished "vanished from us forever" on December 26, 2017, which overshadowed their Christmas with grief.
They said they felt powerlessness and disbelief from being so far away in Sweden, and looked at pictures and video clips and read newspaper reports of the "extremely horrible and freak accident".
Loading
Lars had become a father later in life, the family said, and was proud and doting towards his family, who meant "everything". When Lars, Jessica and Annabelle spent Christmas in Sweden in 2014, Jessica said she had plans to one day live in Sweden.
But the family's plans were extinguished when, after one last holiday, they were killed in an "extremely tragic and unnecessary accident". Lars' siblings said they were reminded constantly about the loved ones they lost, and have felt intense grief and anger since the crash.
They offered their sympathy to the Whitall family, "whose suffering is no less than ours", and wished them "peace and a long life".
State Coroner Teresa O'Sullivan thanked the family members for their tributes and described the tragedy as "unimaginable".
The inquest findings will be delivered at a later date.