A range of banks including all big four lenders Commonwealth Bank, Westpac and ANZ are scrambling to find the source of an outage that is affecting internet banking and access to online apps across the country.
Commonwealth Bank used Twitter to apologise for the outage and thank them for patience. "We're aware some of you are experiencing difficulties accessing our services and we're urgently investigated," CBA posted around 3pm.
CBA customers using internet banking and the online app are down, whereas other services like Apple Pay are still running.
Westpac customers, including St George and Bank of Melbourne, also reported being unable to access internet banking in what is understood to be a "major telecommunications outage".
Members Equity bank customers also took to Twitter reporting "online banking is down too".
To change the topic from a steady stream of COVID news, national security correspondent Anthony Galloway has an update on the former ASIS intelligence official who helped expose an Australian bugging operation against East Timor.
The operation helped Canberra secure advantage in commercial negotiations over offshore oil and gas reserves.
The former spy, known as Witness K, has pleaded guilty for the first time in a Canberra court.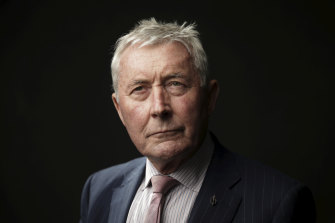 Appearing before the ACT Magistrates Court behind a wall, Witness K was asked by Magistrate Glenn Theakston how he pleaded. "Guilty, your honour," he said.
The court has now been closed while the prosecution and defence tender classified documents.
Earlier, a rally was held at the front of Federal Parliament in support of Witness K and his former lawyer Bernard Collaery, who has also been charged with breaching secrecy laws but is fighting the charges.
Independent senator Rex Patrick told the crowd the bugging of the East Timor government was a "betrayal".
Today's decision from the federal government and vaccine panel has also created an enormous challenge to get what Pfizer supplies Australia has out to the people who are newly eligible for it.
This is what Greg Hunt, the health minister, said will happen: "At the moment, Pfizer is available through some Commonwealth clinics and state clinics. And over the course of July, [COVID-19 taskforce commander Lieutenant General John Frewen], will oversee the rollout to Pfizer of up to 1300 general practices around the country. As the rest of the year continues, that will be expanded."
States and territories will be making their own calls about expanding the availability of Pfizer, Mr Hunt said.
Despite today's added strain on the vaccine rollout, the government is trying to get back on the front foot. Part of that is a new name for the military's role in the process: Operation COVID Shield.
At the press conference earlier in Canberra, Commander Lieutenant General John Frewen said he is aiming to get as many Australians vaccinated as quickly as possible. It's not quite clear how that differs from previous plans, but he will begin by reviewing previous efforts.
"I will be looking for any opportunity to optimise the current plans to accelerate the rollout, where we can as additional supplies come online," Frewen said.
(A reminder, there have so far been two deaths linked to about 4 million first doses of the AstraZeneca vaccine)
Today's decision is a blow to the AstraZeneca vaccine, although it remains generally safe and effective for much of the population. A spokeswoman for AstraZeneca sent this statement through a moment ago:
"AstraZeneca remains committed to supporting the rollout of the vaccination strategy in Australia and is confident that our vaccine has an important role in protecting Australians from the virus.
"Our vaccine has helped to save tens of thousands of lives and extensive data from clinical trials and real-world evidence from millions of people shows that our vaccine is highly effective against COVID-19. Regulatory authorities around the world have stated that the benefit of using our vaccine significantly outweigh the risks across all adult age groups.
"Patient safety is AstraZeneca's highest priority, and we continue to work closely with the [Australian medical regulator] TGA and other regulators around the world.
"Our global commitment remains to play an important role in addressing the current global health emergency posed by COVID-19 by providing our vaccine at no profit during the pandemic."
Labor frontbencher Katy Gallagher has backed the changing health advice on vaccines, speaking just now on the ABC.
But she has criticism for the government on its communication and advertising on the benefits of vaccination, and for not securing enough doses from enough providers to begin with.
"That's left us where we are today and the program will be in disarray and we'll have to recalibrate and no doubt there'll be further delays and questions about supply," Senator Gallagher said.
Nationals Senator Bridget McKenzie, who is generally pretty happy to go off the government's script, is sticking with it on the vaccine.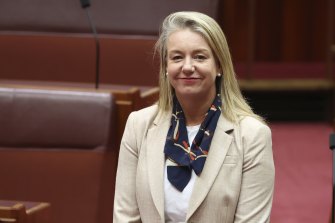 The Senator, 51, has had one dose of AstraZeneca. She says she was happy with that and the advice around it, even though the advice has now changed to restrict that vaccine to people over 60.
"[The] risk is very, very low for this rare blood clotting incident," Senator McKenzie said.
"I received full information from my GP who administered the dose, along with [information about] any sort of signs that that [clot] could be occurring and what to look out for. So I'm confident in the medical advice I received and that AstraZeneca is actually being rolled out as appropriate."
Here's how the Australian Technical Advisory Group on Immunisation has justified its decision in its own words:
"The Australian Technical Advisory Group on Immunisation (ATAGI) recommends the COVID-19 Pfizer vaccine (Comirnaty) as the preferred vaccine for those aged 16 to under 60 years. This updates the previous preferential recommendation for Comirnaty over COVID-19 Vaccine AstraZeneca in those aged 16 to under 50 years.
"The recommendation is revised due to a higher risk and observed severity of thrombosis and thrombocytopenia syndrome (TTS) related to the use of AstraZeneca COVID-19 vaccine observed in Australia in the 50-59 year old age group than reported internationally and initially estimated in Australia.
"For those aged 60 years and above, the individual benefits of receiving a COVID-19 vaccine are greater than in younger people. The risks of severe outcomes with COVID-19 increase with age and are particularly high in older unvaccinated individuals. The benefit of vaccination in preventing COVID-19 with COVID-19 Vaccine AstraZeneca outweighs the risk of TTS in this age group and underpins its ongoing use in this age group.
"People of any age without contraindications who have had their first dose of COVID-19 Vaccine AstraZeneca without any serious adverse events should receive a second dose of the same vaccine. This is supported by data indicating a substantially lower rate of TTS following a second COVID-19 Vaccine AstraZeneca dose in the United Kingdom (UK)."
This is a terse press conference, as journalists question the officials and minister to understand what this decision will mean for Australia's vaccine rollout and whether it's properly justified.
Health Minister Greg Hunt is insisting that this is not a disaster. He points to the doses of Pfizer scheduled to arrive, saying there will be enough to let the government expand the number of people eligible for that vaccine.
"In the first three months of the rollout, from February to May, we received 3.4 million doses of Pfizer. This month we're expected to receive 1.7 million, and next month that will grow to 2.8 million doses. And that's what will allow us to expand the coverage," he said.
"Then over the balance of the year – and I've had this reaffirmed by the country head of Pfizer today – we will receive the remaining 32.5 million doses. So, that means that we remain on track to receive all of our Pfizer during the course of this year."
But the pace of the rollout also depends on eligible people getting vaccinated. "Please do not wait. There could not be a simpler, clearer message," Mr Hunt said.
Mr Hunt is insisting that he will follow the health advice, seemingly no matter what. It's a very strong commitment.
"And yes, sometimes it is difficult and challenging, but think of the alternative of not accepting the medical advice… That's not an alternative on my watch. That's not an alternative on the Prime Minister's watch, which we're willing to take," he said.
Health Department Secretary Brendan Murphy said the vaccine advisory group factored in the risk of future lockdowns when it was considering advising the government to further limit the use of AstraZeneca.
That's a significant question because Australia doesn't have the capacity to make Pfizer locally, and it therefore is harder to roll out than AstraZeneca.
Consequently, today's decision looks like it will make the country's vaccine rollout slower and risk more lockdowns if there are outbreaks in that time.
Nine News' political editor Chris Uhlmann put that hard question to Professor Murphy, suggesting that ATAGI has essentially prescribed more lockdowns.
The secretary disagreed. "I don't think the Commonwealth has prescribed too many lockdowns," Professor Murphy said. And it is a factor that was weighed up, he said.
Professor Murphy believes this change will also persuade nervous people to get vaccinated.
"There are a number of people in that 50 to 59 year old age group, who have been very hesitant and were probably not going to turn up for AstraZeneca, no matter how much we reassured them," Professor Murphy said.
"This now gives some of those 2.1 million people an opportunity to get vaccinated earlier."
Part of the reason for the change in advice today seems to be that Australia is detecting a higher rate of issues associated with the AstraZeneca vaccine than other countries, such as the United Kingdom.
Overseas data had previously fed into some Australian government decisions on vaccines but we now have more of our own information.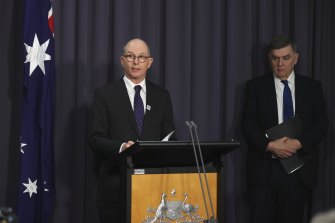 "We're picking [cases of the rare blood clotting condition] up much more commonly than other countries because we're looking more fully," says Professor Paul Kelly, the chief medical officer.
His colleague and predecessor Brendan Murphy says a similar thing. "It's interesting that this incidence of this condition in this age group is higher than we've seen in the UK data which we used to base our original statement on, but we always stick with our Australian data."
Chief Medical Officer Paul Kelly is explaining the reasoning from ATAGI, the group of experts advising the government on vaccines. It's ATAGI that decided to change the age groups eligible for AstraZeneca this morning.
"They've balanced the risk of benefit of the vaccine in the context of where we are right now in Australia in relation to the COVID 19 pandemic, and also with an eye to what might happen over the coming months," Professor Kelly said.
"I think a really important message [is that] AstraZeneca remains a very effective vaccine."
He urged people to get the AstraZeneca vaccine if they are over 60, emphasising its safety.
"And so people over 60 should still be rolling up to the GP or wherever they are getting their AstraZeneca vaccine, and get that first dose," he said.
That message also includes people under 60 who have had a first dose, but not their second yet.
Professor Kelly said that the rare blood clotting disorder associated with AstraZeneca is even rarer in second doses, though the sample size is small.
"It's a completely different picture for those second doses," said Health Department Secretary Brendan Murphy.