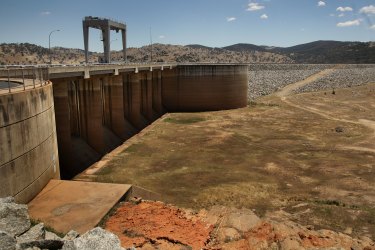 Similarly, total flows along parts of the Gwydir River are forecast to drop by as much as 35 per cent. High flow events, which are important for trigger fish movement and spawning could shrink by a similar proportion.
Loading
"It is possible for inflows into Copeton Dam [on the Gwydir River] to be half the volume of 27 gigalitres over 24 months" seen during the recent drought, the report said.
Upper House independent MP Justin Field said the reports should prompt the government to rethink its approach to managing rivers.
"Water Minister Melinda Pavey spectacularly fails to provide any meaningful plan for dealing with the impacts of this decrease in water availability, instead offering up the same discredited strategies of more dam building and turning our coastal rivers inland," Mr Field said.
"These climate realities also raise yet more concerns about the government's plan to licence billions of litres of water for floodplain harvesting in the northern Murray-Darling Basin," he said. "Issuing these licences based on historical take when we know that water simply won't be there in the future is a recipe for disaster."
A spokeswoman for Ms Pavey said farmers and regional communities were on the frontline of climate extremes."This is the first time any NSW government has embarked on long-term planning for water security and drought resilience."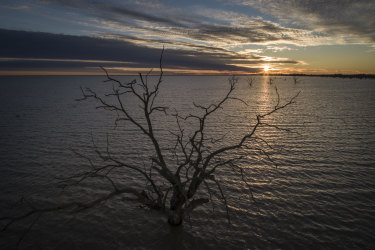 "The 12 Regional Water Strategies will consider a full range of options to address current and future water challenges, including infrastructure options, water recycling and reuse, and improved water efficiency, to secure water during extreme events and… the toughest droughts," she said.
Matt Colloff, a former CSIRO scientist now at the Australian National University, said different NSW agencies were producing varying outlooks.
Loading
For instance, another part of the Planning Department predicted in a hydrology report that "across much of NSW, surface runoff is projected to increase in both the near and far future".
"Largest increases are evident in the central west through to the northern tablelands. Large reductions in surface runoff are projected in both the near and far future for alpine areas in the south of the state," it said.
Dr Colloff said the new batch of reports "present no data on range, variation or uncertainty, only the worst case scenario".
"Call me a cynic, but this says to me they are intended to carry a message that 'we can't implement the [Murray-Darling] Basin Plan because of climate change,'" he said. "And 'because of climate change, irrigators in the Northern Basin should be allowed to continue with floodplain harvesting'."