Milford has struggled to live up to the hype of his seven-figure price tag, but many fans would accept him remaining at Red Hill on a vastly reduced wage as a running No.6 alongside Reynolds.
The Souths star did not get the chance to chat with Walters after the game on Thursday but said there was a chance they would meet up over the weekend after he stayed in the Queensland capital with his young family house-hunting.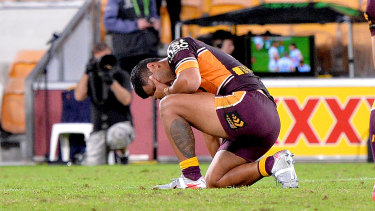 "I've got no regrets at all about the move and I'm excited for the challenge," Reynolds said.
"The upside with the club is the number of young players coming through. There is a lot of talent there. They're getting hammered about the results, but they are still a new group – there's a load of youth and not many senior leaders there.
"I'll go there and try to have an impact and give my input.
"I think their systems look a little broken at the moment, but you can tinker with that. Having just played against them, I know what works and doesn't work.
"They're a team that looks down on confidence and maybe a team not playing with the freedom some of the other clubs are.
"I've spoken with Kev, we've bounced a few ideas off each other and had a couple of chats over the phone."
Souths coach Wayne Bennett remains a favourite at the Broncos, and Reynolds said the Queensland legend would be a success wherever he landed next year.
Loading
"I've tried to get an understanding of where he will be next year, but even he doesn't know," Reynolds said.
"He has a great history at the Broncos. He's only had great things to say about the place when I was making my decision. From what I understand he won't be there next year, but Wayne would be great for any club in the NRL."
Reynolds has 10 regular-season games remaining for his beloved Bunnies before hopefully pushing all the way to his second premiership.