Straight from the centre bounce, some classy play from Parish and Stringer leads to a mark by McDonald-Tipungwuti. He marks and converts. He's been so accurate in 2021.
Q2 HAW 9 ESS 26
Hawks back half are doing a lot of defending but they are getting looks at goal.
Convert and it should even up in the second term. Clearances also an issue.
Q2 HAW 9 ESS 20
It's a really good game, despite the scoreless start.
High marks, nice goals, plenty of dash and a crowd that is really, really up for it.
A lot of them are Bombers too, which is unexpected given the Hawks perceived stranglehold over Launceston.
QT HAW 9 ESS 20
The excitment machine runs onto a loose ball in the forward 50, off a poor turnover from the Hawks, and he is about 15 metres out.
Stringer sums up the situation, on a slight angle, and decides not to pick it up even though he had time.
Instead its side-footed soccer style straight through. He's a ripper.
Q1 HAW 9 ESS 20
Jacob Koschitzke marks all alone close to goal and converts the set shot.
Changkuoth Jiath very good getting the interception that led to the goal.
Quickly after Langford gets a set shot for the Bombers second. He wins a free kick in the forward 50 and converts.
Q1 HAW 7 ESS 14
It comes from Harrison Jones. He is taking big grabs. And now he has the goal to go with it.
Comes moments after Cale Hooker kicked his set shot into the mark. Bombers deserve to be in the lead.
Q1 HAW 8 ESS 1
The good news is the crowd is a cracker.
Plenty of Essendon fans out in force too.
Jones and Wingard have both missed easy shots early for either side.
Q1 HAW 1 ESS 2
Hawthorn win the toss and will kick to the right of screen. Visions of James Hird and Dean Rioli evoked with Cale Hooker in the long sleeves.
Q1 HAW 0 ESS 0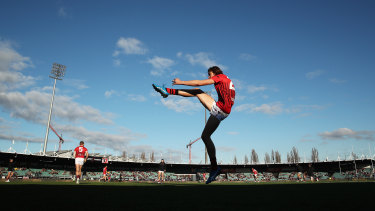 Hawthorn won the contested possession count by 26 last round against Sydney – its second-best differential in any game since 2018.
The Hawks and Bombers rank 16th and 17th respectively for contested possession differential this season.