The separation of competitions earlier this year made it difficult to compare Australia's sides with New Zealand's. I was woefully off in predicting how competitive the Australian sides would be, perhaps underestimating how much the Kiwi sides would improve after their own competition. But after five weeks of trans-Tasman competition, it was easy to see that the Blues v Highlanders final was on another level to what we had been watching.
The Blues weren't accurate, but their breakdown intensity was enormous: even Blues halfback Finlay Christie was smashing blokes off the ball. Yet, despite being on the ropes for an hour, the Highlanders stayed in the fight in a way that Australian sides rarely managed to do. For the watching Australian Super Rugby sides, it was a lesson in the value of pure hunger.
2. French squad becomes a little clearer – and weaker
The chances of gun halfback Antoine Dupoint taking any part in the July series now appear to be zero. His Toulouse side beat Bordeaux in a hard-fought Top 14 semi-final on Sunday morning (AEST), meaning that he won't be available to tour.
Given that French rugby observers believe Toulouse are already "running on fumes" after a big season, it's possible he may have been rested anyway. That appears to be likely for star centre Gael Fickou, according to the French press, despite his Racing 92 losing in their semi-final.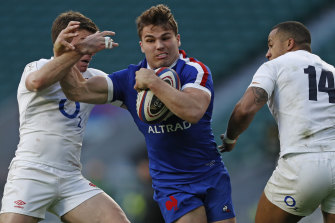 However, Wallabies coach Dave Rennie had a point when he recently praised the depth in French rugby. Les Bleus are likely to be guided around the field by Toulon No 10 Louis Carbonel or Bordeaux's Matthieu Jalibert, two young players who have come off French rugby's excellent production line in recent years.
3. Wake up, South Africa
The most stunning result of the weekend came in the final of the Rainbow Cup, the 'bridge' competition between South African sides and the Pro 14 teams in Europe. The competition was designed as a precursor to the 'United Rugby Competition', a 10-month slog that merges four South African franchises into the old Pro 14 competition. The Bulls, under Jake White, were expected to thrash Italy's Benetton, who surprised everyone by just making the final.