"Clive Palmer's wealth may make him a billionaire, but his value as a member of the Australian community is negative.
"People in Melbourne have borne the brunt of the pandemic in Australia, and we don't need Clive Palmer attacking us, and denying Melburnians the chance to be safe.
"It's way past time his attention-seeking antics came to an end. He has used his money to undermine our social cohesion and public health efforts. It's nothing short of disgraceful; it has to stop, or be stopped."
Mr Giles said there was "confusion and uncertainty" in the community that must be urgently addressed by the government.
The letter drop came after the TGA admonished Mr Palmer earlier this month for taking out advertisements on radio for spreading the same claims about the number of deaths.
The TGA said it was "seriously concerned about the misleading information" being circulated by Mr Palmer that provided an "incorrect picture of the safety of COVID-19 vaccines".
"The TGA investigates reported adverse events and has found only one case where an individual with vaccine related thrombosis with thrombocytopenia syndrome (TTS) or any other related condition has passed away," the agency said.
Loading
"Sadly, about 160,000 people die in Australia every year – almost 3000 each week – and therefore it is quite expected that there have been some deaths reported within days or a few weeks of vaccination."
The head of the TGA, Adjunct Professor John Skerritt, this month wrote to Mr Palmer to remind him that public figures have a "responsibility to be factual" and to not "undermine health through spreading misleading information".
Prime Minister Scott Morrison also lashed out at Mr Palmer in March for spreading unfounded claims about vaccines
"This is misinformation, pure and simple. Don't listen to it, it's rubbish," Mr Morrison said.
In his letter, Mr Palmer said while he supported the use of vaccines "that have approval for general use, I am very concerned by the use of this vaccine on the general population".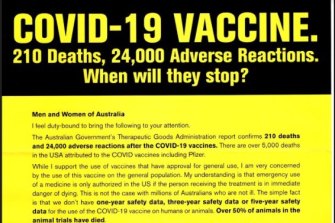 "The simple fact is that we don't have one-year safety data, three-year safety data or five-year safety data for the use of the COVID-19 vaccines on humans or animals. Over 50% of animals in the animal trials have died," the letter said.
"There is no pandemic in Australia – only one person has died of COVID in 2021. The TGA and the government has spread misleading information designed to create fear in the population.
"The COVID-19 Vaccine doesn't stop you from getting COVID and it doesn't stop you from passing it on. Does it serve any real purpose?"
The Morning Edition newsletter is our guide to the day's most important and interesting stories, analysis and insights. Sign up here.