But Mr Tingate said the demand was particularly strong for school holidays, with resort accommodation booked out for the two-week period.
"It now just means those people can have some confidence they can come to the resort."
Last week the state government unveiled new restrictions for Victorians, including making it mandatory for all Melburnians to test negative to coronavirus before heading to the snowfields after the pandemic all but wiped out last year's ski season.
On Wednesday, following criticism from industry groups, the state government changed its health advice, instead recommending only that those from metropolitan Melbourne, aged over 12, take a test.
Avid skier Peter Stiebel said the rule change would encourage more people to head to alpine areas after confusion over the rules prompted many people to dump their plans.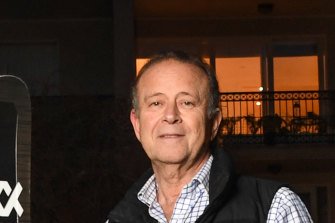 Mr Stiebel travels three hours to Mount Buller every weekend during the snow season in search of the perfect snow fall.
Taking every Friday off work throughout winter to get three days of skiing in each week, he leaves at 6am to beat the rush. He's done it for as long as he can remember, alongside his social group the "Buller buddies".
"I've been doing it for years. It's as much about the socialising as it is the skiing," he said.
Movement between metropolitan Melbourne and regional areas remains unrestricted despite two new cases of coronavirus being detected in the state on Thursday after the owner of a Sandringham dry cleaning business tested positive to COVID-19 following a trip to Sydney this week. His colleague later tested positive.
Loading
But tour operators say the damage may already be done, with mass cancellations still coming in from across the country.
Snow Bus tour operator Wade John, who has run trips to ski fields in Victoria and NSW including Buller Bus for more almost a decade, said mass confusion among visitors remained.
Mr John said that following last week's testing announcement, he was forced to cancel all tours for the next seven days because it was unclear who would be liable for allowing untested tourists into alpine areas.
He said the biggest problem, though, was the confusing advice being given to people in other states, who were now cancelling family trips from Western Australia and Queensland in particular.
On Friday, he had nine people book trips to Mount Buller when he'd normally have 85.
"People are just scared to spend $10,000 to $15,000 on a family holiday because of the unknown. Even with the testing being a recommendation now I don't think people will care, they just won't even consider it," Mr John said.
"Bookings are extremely bad until the 20th of July."
The Victorian ski season was cancelled last year after health authorities said the second wave of the coronavirus made the practice untenable.
The state's ski industry, led by resorts at Mount Buller, Falls Creek and Mount Hotham, contribute almost $800 million annually to local economies, according to a 2017 government report. About 8000 seasonal jobs are created every year.
Senior meteorologist at the Bureau of Meteorology, Michael Laczko said all of Victoria's ski fields could expect on and off snow showers this weekend.
He said conditions on the slopes would likely be cold, damp and overcast with a little wind, particularly on Mount Baw Baw.
"Forecast temperatures up at Mount Hotham aren't expected to get above 0 degrees for the weekend whereas Mount Buller it's likely to reach one degree and similar at Falls Creek," he said.
"Those showers are expected to top up the snow that's already there."
The Morning Edition newsletter is our guide to the day's most important and interesting stories, analysis and insights. Sign up here.