As a 1960s schoolgirl in rural Victoria, Glenda Maes, 66, idolised her hip home economics teacher, Cathy McCallum, 75, then followed the same career path. Today, the pair share hot drinks, home-cooked meals and a vegie patch.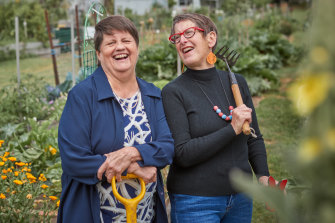 GLENDA: New teachers used to be sent to the country for three years, so Cathy came to Sebastopol Technical School in Ballarat in 1968, when I was in year 8. She was one of those vibrant teachers kids love: she wore miniskirts, knee-high boots and big hair. She also organised girls' football matches, which was unheard of back then. The other home-ec teachers were a bit old-school – we'd make pear mice and cinnamon toast – and Cathy changed the whole curriculum. She was flamboyant, but a bit scary; she knew how to discipline a classroom.
I was a bookworm, a bit of a nerd. I was the oldest of five kids, and we had no money. Cathy thinks about people who haven't had the same benefits as her, which is probably why I struck a chord with her. Even though my mother knew I could go further than being a factory worker like she was, we didn't have the means to do it. Cathy was a leader, a role model.
At the end of 1970, Cathy went back to Melbourne and we were all devastated. She and I started writing letters and I'd take the train down and stay at her parents' place. I'd never been to a Chinese or Italian restaurant before, and she took me to Carlton for my first Italian ice-cream. It broadened my horizons. I started to have a real interest in food and became a home-ec teacher, a career I loved for 35 years. I became a similar teacher, I think: kids would say, "Oh, not Miss Maes, I'm scared stiff of her." And the kids I'd taught would go, "No, she's a pussycat. Do the right thing and you'll be fine."
Once we became mothers [they each have two children], we didn't see much of each other but, in 1991, we met up again through a mutual friend. We just picked up where we'd left off and ended up teaching together at Boronia Heights College in Melbourne in the 2000s. It took me a while to feel like equals, rather than student and teacher.
Loading
In 2009, I came back to Ballarat and, two years ago, Cathy and her husband Bill moved here, too. Now I see Cathy at least three times a week. We share a plot at the community garden and meet there with our thermoses and something to eat: homemade lemon cake, blueberry and banana muffins. We grow things together and then cook what we grow.
When she moved into her house last June, I cooked her vegetable and lentil soup, flourless orange cake and sausage rolls. That very day, I found out my youngest brother had died; he was an alcoholic and had suffered a massive haemorrhage. Not long after that, Cathy rang and said, "Do you want to go for a drive?" We sat by the lake and had a chat: nothing serious, but it made me feel good. She's always there, but she doesn't crowd you in.
Cathy's husband is a Vietnam vet and struggles a bit. She'll say, "I need to get out of the house" and I'll say, "Let's go." It's just easy. Sometimes people ring and you think, "Oh god, what do you want?" There's none of that.