Perth or Jandakot airports could be the site of a 1000-person quarantine camp after the McGowan government accepted a Commonwealth request to work together to establish the facility.
Prime Minister Scott Morrison wrote to WA Premier Mark McGowan on Thursday night raising the possibility of building a new facility on federal land at Perth or Jandakot airports, which met Commonwealth criteria of size and vicinity to hospitals and airports.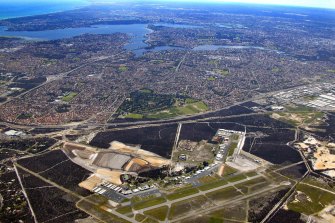 The agreement likely means Mr McGowan will stop pressuring the Commonwealth to open up federal facilities such as Curtin RAAF airbase or Christmas Island's detention centre to quarantine returning Australians.
Mr Morrison invited the WA government to take part in a joint formal assessment of the sites.
Mr McGowan has previously criticised the idea of building a new facility, declaring in April it would take too long to build.
With herd immunity on the horizon, Mr McGowan again conceded there was a risk that the facility could be rendered useless as the pandemic eased.
He said he still thought an existing facility such as Christmas Island would be a quicker option but accepted the Commonwealth did not want to use those and was happy with the outcome.
"We have put other locations to the Commonwealth over time that will be far quicker, for instance, Christmas Island or some of the existing facilities that they have available but the Commonwealth doesn't want those," he said.
"They want to create a new facility so it will take time, planning, design, tendering, building and working out the exact site. We'll do our bit to make it as speedy as possible."