Tellingly, the Wallabies only included two No.10s in their original squad, signalling that Rennie saw Hodge as an option in the playmaker's role – and why wouldn't he?
Hodge must have earned the trust of the Wallabies coaches as he guided them to a crucial win against the All Blacks in Brisbane last year, with his chip kick to set up Tom Wright's early try an example of his surprisingly deft range of skills.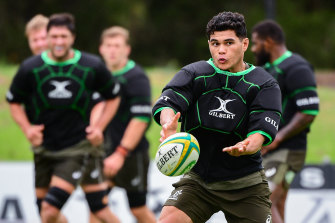 A lack of game time this year may put a question mark over his chances of wearing the No 10 jersey against France, but on the flipside he has a lot going for him.
He's a relatively big man for a No.10 and his ability to be direct with his carries is an enormous asset at Test level, where space is tighter. His kicking game – especially his long kicking game – is strong and his defence can't be questioned.
He may lack the X factor of previous luminaries in the Wallabies No.10 jersey but he's a mature player, a student of the game, and he understands what the Test arena is all about.
Lolesio has been good this year without shouting it from the rooftops. He is part of a well-oiled Brumbies machine and although they looked a bit clunkier with Bayley Kuenzle at No.10 for the loss against the Highlanders in the last round of Super Rugby Trans Tasman, it can be hard at times to work out whether the Brumbies' all-round excellence makes players look better, or vice-versa.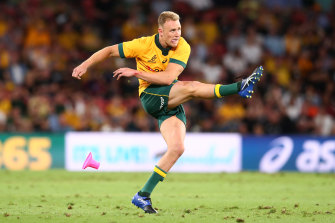 Still, this is not really a column about Lolesio's possible downsides, but rather Hodge's underrated qualities.
It really is impossible to understate how much experience counts in Test rugby. For the same reason, the French are going to be found out at times during the three Tests. No matter how talented they are, having about 20 uncapped players in a squad of 42 is going to bite you on the derriere at some stage.
Loading
The Wallabies should be wary of the same outcome, which is why the Manly product should be in the selection conversations.
Hodge is highly unlikely to be the Wallabies No 10 at the Rugby World Cup, but the French series isn't about that. As assistant coach Scott Wisemantel said earlier this week, it's about winning.
The Wallabies beat the All Blacks with Hodge at No 10, they still have a bloke who has already won more than 40 Tests.