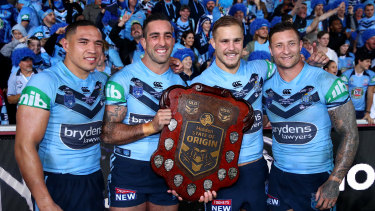 "I think he's been tremendous coming back after nearly three years out of the game, even though Jack is a hard marker and holds himself to the highest of standards.
"Time is all he needs. It will only be a couple more games and he'll be back to playing the great football we know he can produce.
"He's getting there. He's been through the wringer. It's been nearly three years. But he's super focused on what he wants to achieve.
"I've got no doubts if he is recalled on to this arena, he would not let anybody down, that's for sure."
De Belin played a huge role in the 2018 series when given the nod by first-year coach Fittler, while Sims made his debut off the bench in game three that same year. The pair live 100 metres from each other and their partners and children are good friends.
Sims was overlooked last year because of form and injuries and, had it not been for a suspension to Angus Crichton, the retirement of Boyd Cordner and injury to Tyson Frizell, he would have been unlikely to have made his own NSW return in Townsville.
Fittler confirmed as much, especially given the Dragons as a whole had been "not awesome". Fittler, however, knew Sims had never let him down and would get the job done if required.
Sims was excellent against Queensland in game one, shooting out of the line to cut Maroon runners in half and throwing a great pass while falling in a tackle for one of Brian To'o's tries.
"It was a wild pass; thank god 'Bizza' [To'o] ran on to it," Sims says with a grin.
Loading
One of his highlights in Townsville was "running out before the kick-off to Metallica and the whole crowd either booing or cheering at the same time. It was one of those pinch-me moments."
One of Sims' first phone calls after the 50-6 game-one thrashing was to Griffin, the Queensland bushie who talks slow and is even slower with praise for his players. Griffin and Sims met a decade ago when he was in the under-20s at Brisbane. The coach made him pile on 25kg and hooked him from the wing into the front-row,
"I actually rang 'Hook' [Griffin] the next day after Origin I and he thought I was ringing to rub it in," said Sims, before he broke into his best Griffin impersonation.
"He said, 'Awww, what, you're trying to rub it in, are ya?' But I told him, 'No mate, I just wanted to let you know I'm sweet to play this weekend'.
"He told me, I did good. Hook doesn't say much. I was pretty rapt with that."
Sims would love to break Queensland hearts a second time on their own turf on Sunday night. Then he wants to help the Dragons get back into the NRL finals. Then this time next year, maybe, just maybe play alongside his good mate de Belin again for the Blues.