What lockdown?
It turns out there are a handful of Sydney FC fans who have somehow made the journey down to AAMI Park. Let's hope they're either Melbourne residents, or got out of dodge early enough to escape the border closure.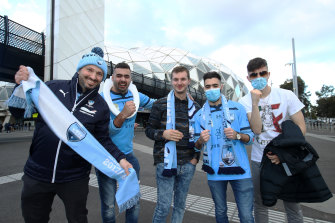 Of course, they won't be the Sky Blues tonight – Sydney FC will be wearing their third kit, which is charcoal in colour, against City, who as the home side get to wear their home kit, which is 'City Blue'. Their own shade of light blue, apparently. Just don't call it Sky Blue!
Lynchy's tip – 2-1 to Melbourne City inside 90 minutes
The Victorians are finally delivering on the promise they have showed over several seasons as the City Football Group's money and methodology begins to pay dividends.
The Bundoora-based squad were clearly the most consistent team of the regular season, winning their first ever Premiers Plate, and rookie coach Patrick Kisnorbo took Coach of the Year as a result. His team can make it a hat trick of success in this decider, but it promises to be a hard fought contest.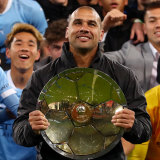 The big question for Kisnorbo and his opponent, Steve Corica, is how to plug the gaps left by their absent Socceroos. City is without the league's most potent striker, Jamie Maclaren, as well as key defender Curtis Good and the league's breakthrough midfielder Connor Metcalfe, a youngster whose all round excellence this season was rewarded with his first Socceroo call up for the recent World Cup qualifiers.
But in their comprehensive semi final win over Macarthur last weekend Kisnorbo trusted the kids, and they showed that they were more than a little all right, Marco Tillio and Stefan Colakovski combining twice to set each other up for a goal apiece. Rostyn Griffiths, the ultra dependable defensive utility, can drop back to fill Good's spot, leaving Aiden O'Neill to be the metronone in midfield.
Corica has stronger – on paper, anyway – scoring options in Bobo and the returning Adam Le Fondre, while Paulo Retre and Ben Warland are good defensive cover for Rhyan Grant and Ryan McGowan, although this will be a big test for stand in goalkeeper Tom Heward- Belle, who replaces Andrew Redmayne.
I think home advantage and the momentum they have recovered with that convincing win over Macarthur will get City over the line in normal time and make up for last season's extra time loss to Sydney in the 2020 Grand Final.
Dom's tip – 1-0 to Sydney FC in extra time
Only two points separated City and Sydney on the ladder after the final round and the absence of three Australian internationals for each team only further narrows that gap in the decider.
Unfortunately for City, those absences are likely to be felt more for them. They'll be without three core members of their spine – top scorer Jamie Maclaren, midfielder Connor Metcalfe and their dominant centre-back Curtis Good. While Sydney miss goalkeeper Andrew Redmayne, fullback Rhyan Grant and central defender Ryan McGowan, the latter duo's replacements are hardened A-League campaigners that would start for most other teams.
City are fit, hungry, disciplined and clinical but the Sky Blues' squad has plenty of big-game experience. They have barely changed in personnel (players or coaches) in three years and enter the decider in a rich vein of form with five wins on the trot – factors that may get their noses in front in a photo finish.
It remains very tight but if I had to make a call, Sydney to win it by one, possibly in extra-time again.
No comments yet – what are you waiting for? – but a question from A-League Villa on Twitter:
It's hard to give a definitive answer at this point other than – it'll look different. The APL has talked a lot about their planned 'digital hub' without giving away many details. I'm expecting a one-stop website for news, videos and other content on the A-League and other major football competitions – filling the void somewhat left behind by SBS's decision to shut down The World Game, as well as declining mainstream media coverage of the A-League. Paramount+ will do the heavy lifting around match broadcasts, but maybe this 'hub' will be where the A-League clubs put their supplementary content, like the custom pre-match broadcasts they've been putting on Facebook Live, and maybe any in-house documentaries and features they put together. I could be wrong! But the idea of change in and of itself is extremely exciting after years of what feels like A-League atrophy.
As Dom wrote in today's Sun-Herald, this isn't just a grand final. Today will mark either the start of a new dynasty or the continuation of another.
Sydney are bidding for a third consecutive grand final win, which has never been done in A-League history – and only one National Soccer League team was able to do it, back before grand finals decided who won our domestic titles. In fact, Dom wrote a separate story about the similarities between that Sydney City team, the other teams in the AFL and NRL to have pulled off three-peats, and today's Sky Blues. It's worth a read.
But City's time may have arrived. They say you've sometimes got to lose a grand final to win one – they ticked that box last year. Despite their Socceroos losses, they've made it to the big dance. They have talent everywhere and a clear style of play and philosophy they adhere to at all times. Sydney may have a whole bunch of big-game players who've done this before, but City look ready, to me.
Speaking for myself now, and my team of the year would be very, very similar to Dom's below. I'll save us all the rigmarole of the explanations behind picking the same players, but here's where I'd differ.
LB: I'd have Corey Brown (Brisbane Roar) instead of Scott Jamieson. Brown's not a hugely popular player and Melbourne Victory fans certainly didn't take to him during his time there but he barely put a foot wrong this season. Not only rock solid in defence, he laid on eight assists – equal-second in the A-League, along with Craig Noone, and behind only the maestro Alessandro Diamanti.
RB: I'd move Scott Jamieson (City) here instead of Rhyan Grant. Yes, Jamieson is a left-sided player. But City play with an inverted fullback, who moves into the centre of the park to become an additional midfielder – a tactic they deadset ripped from parent club Manchester City. The rest of the A-League can't really deal with it, so it's got to be in my team.
M: I've got Luke Brattan (Sydney) instead of teammate Milos Ninkovic. One of the most underrated players in A-League history, for mine. A true deep-lying playmaker and the guy who Sydney's entire midfield hinges on.
FW: For me, I'd have Craig Noone (City) instead of Matt Derbyshire. Noone has been untouchable on the wing at times this season. I wasn't a huge fan of his previous seasons at City because he struggled to convert chances and that final pass seemed to be missing from his game, but it's here now, and it's glorious to watch.
Everything else, I'd keep the same.
A quick look back before we move forward – I asked my learned colleague Dom Bossi for his team of the year and he's been kind enough to share it with us. I'll deliver my verdict afterwards. Here it is, starting from the back:
GK: Adam Federici (Macarthur) – A hard decision, given the form of Andrew Redmayne of Sydney FC, but the Macarthur goalkeeper gets the nod. He's been an exceptional acquisition for the Bulls, winning points on his own with dozens of incredible saves this season.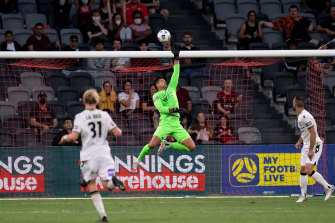 LB: Scott Jamieson (City) – The City left-back has been in some of the best form of his career. He's grown into the captaincy, combining his aggressive style of play with more mature performances that lead his club to a premiership for the first time.
CB: Curtis Good (City) – After injury-stricken career, the Socceroo is back to his best. He reads the play exceptionally, is strong in the tackle and forms the basis of City's possession with his ability to play out of the backline.
CB: Ruon Tongyik (Mariners) – After years of promise, Tongyik had the breakout season many had been waiting for (see the related article for a reason why). The 24-year-old was a pillar in the backline of the Mariners. Strong in the tackle, great in the area and matching that with his ability in possession. He looks set for bigger things next year after breaking into the Socceroos.
RB: Rhyan Grant (Sydney) – The energetic fullback remains the league's best, as he has been for the past three seasons. He's quick to support in attack, strong in defence and combines well with the midfield when Sydney's possession-based attacks gather momentum.
M: Milos Ninkovic (Sydney) – His season almost flew under the radar until he became a joint winner of the Johnny Warren medal. The Serbian star is a joy to watch; smooth on the ball, hard working and creative in attack. This season may not have been the best by his lofty standards but it was still more than a cut above the pack.
M: Oliver Bozanic (Mariners) – The midfield was a driving force behind the Mariners in their shock campaign. Bozanic's leadership sparked Central Coast's turnaround from wooden spooners last year to third place, bringing resilience and consistency to a club deprived of both for years.
M: Ulises Davila (Wellington) – Had the Mexican playmaker not been injured in the tail end of the season, he would likely have won the player of the year award outright. Instead, he shares it with Ninkovic but that doesn't take any gloss off his remarkable year. A creative attacking midfielder, he can score from distance, unlock defence in an instant with his passing range, and is quick on his feet. Davila is the reason fans buy tickets to games.
FW: Jamie Maclaren (City) – A quick glance at his goal tally shows why he's yet again the best striker in the A-League. Twenty-five goals in 24 games is beyond impressive and Maclaren was perhaps unlucky not to have won the Warren medal as well.
FW: Matt Derbyshire (Macarthur) – The Englishman had a bright campaign in his first year in Australia, netting 14 for the Bulls to lead them to a semi-final.
FW: Craig Goodwin (Adelaide) – The Socceroos winger was sensational for the Reds since returning mid-season. His arrival in February coincided with a sharp turn in form for Adelaide as he netted eight times in 18 games. His injury in the finals hurt the Reds' chances of reaching the decider.
Weather fine, track good. Conditions in Melbourne for the A-League grand final could not be better.
It's an excellent winter day, not too cool and with the sun shining there is a brightness in the air, although of course with the game kicking off at 5.05pm darkness will gradually descend.
Whether that means a black mood for City or Sydney remains to be seen. But no-one will be able to blame the pitch or the weather if this game does not deliver what is expected.
City officials described the playing surface as being "like a carpet" – and that is hardly a surprise given that no football of any kind has been played at AAMI Park since City and Victory drew 1-1 in the last Melbourne derby of the season in early June. Melbourne Storm, one of the other co-tenants, has been playing it's NRL games interstate, while the Melbourne Rebels, another occupant, have long since been out of business for the season.
It all bodes well for a potential classic: the last time these sides met they produced a thriller at Leichardt Oval, while in the earlier match this season City won 3-2 having raced to a 3-0 lead before surviving a late Sydney fightback.
I'm feeling a little wistful, tuning into the pre-match coverage via Kayo Sports. This is the last A-League match that will be broadcast on Fox Sports. For now, but probably forever. Who knows. But it's worth taking a moment to appreciate what Fox has done for domestic football in this country.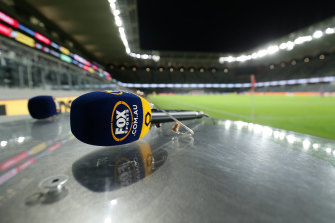 Nobody knew how the A-League would go 16 years ago. Frank Lowy had to basically beg people to turn up to games on the eve of the first season. Fox has been there every step of the way and, personally speaking, some of my favourite memories watching football on TV were because of their coverage. That relationship has soured in recent times – the 'love' just hasn't been there (remember tuba-gate?) and it's shown on the screen. It feels like a break is the right move for both parties.
Next season, it'll be on Ten and Paramount+, along with the W-League and almost all Socceroos and Matildas matches. You can read about those new deals here and here, and a bit of an analysis from me on the A-League deal here. But for now, savour the last A-League match on Fox.
Just getting word through that today's A-League grand final is officially sold out. AAMI Park is operating at 50 per cent capacity – so that's around 15,000. There were some tickets still available this morning, but those have been snapped up and the venue is going to be as packed to the brim as health authorities will allow. Fantastic.