Taking the last spot in the eight is like being the last to qualify for the Olympics. It's nice, it's a relief, and you get to be part of the show but probably just means you go home with a tracksuit.
Of course, you hope for more than just a few weeks of rubbing shoulders with the best and the warm knowledge you were good enough to be there at the end, but most of the time you only end up winning a green and gold trackie.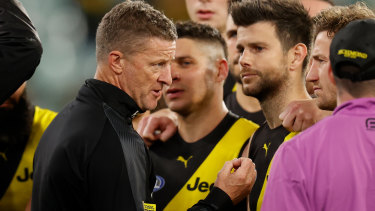 With eight rounds to go, Richmond and Fremantle are now separated by percentage in eighth place. Sydney, a game ahead, should hold their place. They play only two sides above them in the run home but, unsettlingly, with games against Freo, Essendon, GWS and St Kilda to come, they play all four teams other than Richmond who are vying to climb into the eight.
Perhaps more than any other team the Swans will shape who joins them in seventh and eighth place. Sydney's COVID lockdown, however, changes much about expectations and assumptions for the Swans. They are likely to be in a hub in Melbourne for most of the rest of the season, if not all of it, and their games will be thrown around. At a minimum they now almost certainly won't play Fremantle in Sydney in what was already a finals-shaping game.
Richmond should be the eighth side. Despite their problems they are also the only side in contention for that final spot that is likely to do anything more than leave September with the proverbial tracksuit. They are highly unlikely to do a Kieren Perkins and come from nowhere but they cannot be discounted.
The Tigers don't yet have a Hawthorn 2016-17 feel about them but they are approaching that point. They are not as tired as the Hawks in those 'seasons too far' but they are trying to work out how they can readjust on the run and keep the momentum during their 'Dusty Window'.
Noah Balta's injury is structurally as unsettling as any they could have suffered, especially when it is combined in the same (losing) game with Nathan Broad's injury. Yes, David Astbury should return but the removal of the two versatile and attacking defenders in Balta and Broad will have a profound impact.
The Tigers have the softest run home of any of the final eight challengers with games against all of the current bottom four teams including Gold Coast, where the wheels have fallen right off, to help soften the blow of their list of injured.