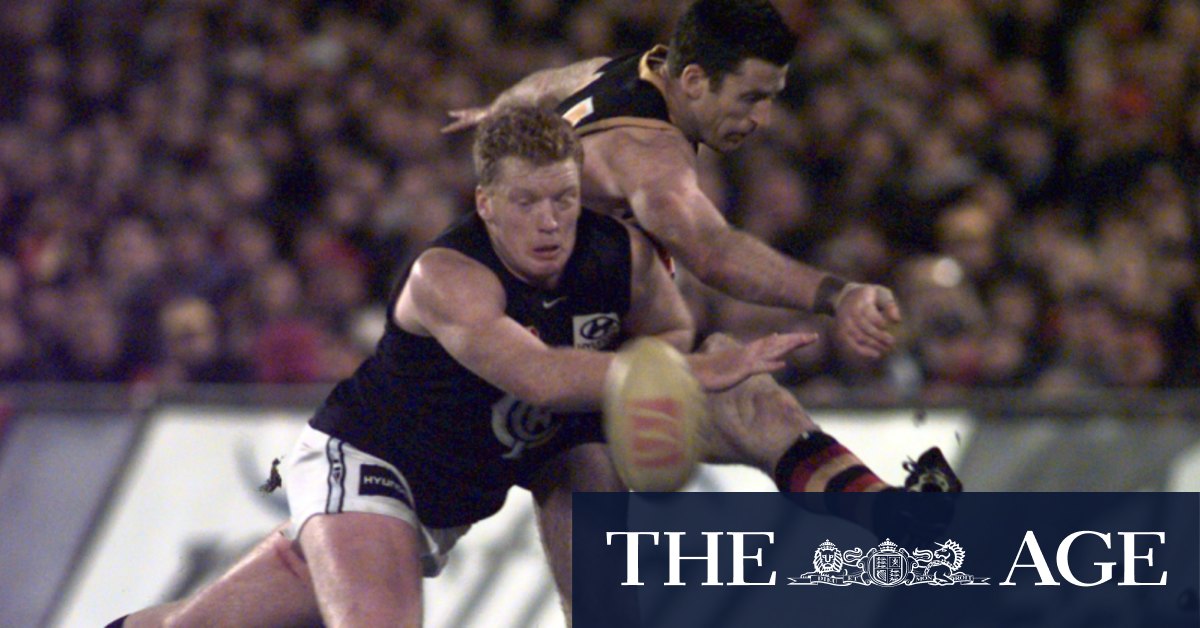 Reminded about the control exerted by his host of midfielders, particularly Craig Bradley, Justin Murphy, Fraser Brown and Brett Ratten, Parkin said: "We've had a bit of a problem in that we haven't been able to share the load enough, and we were just able to add a couple more players to our midfield and relieve them."
And, after praising the sound planning and preparation Carlton's players and match committee had done for the game, Parkin said: "We had nothing to lose. You can play for broke in this regard. There was no expectation on us. There's a freedom that comes with that. I think that's probably helped us a bit."
Loading
Adelaide coach Malcolm Blight, battling the flu and a hoarse voice, was clearly angry at the Crows' performance. "I just think our season might have been on the line there and I think we're in a lot of trouble, to be honest," he said.
"If you're a defender and your forward leads, you actually follow him out. They had 100 more goes than us and won by four points. If we start accepting that now . . . how many games have we lost in the last 18 months to two years by one or two kicks? It's pretty ordinary . . .
"If you're not getting a kick, you can actually go and stand on an opponent without having to be told."
Ominously for the players, Blight added: "I won't worry about Fremantle (at Subiaco Oval next Friday night) yet. We've got some unfinished business at the footy club about that (Carlton) game."
Blight said Tony Modra's brief comeback was "about what you'd probably expect". "He needs to do a lot of work with his ground balls," he said. "He took two nice marks and kicked two goals, but if he doesn't start doing some ground balls and get some second efforts . . . that's where the trick comes now. So we'll start working on that with him."
Modra said: "I guess I didn't start too badly but, in the end, (Stephen) Silvagni ran off me a few times, so I've just got to work on that. It's just confidence."
TIME ON
Loading
CARLTON
1.6 8.7 11.7 16.9 (105)
ADELAIDE
6.1 7.3 11.4 16.5 (101)
GOALS
Carlton: Whitnall 4, Allan 3, Beaumont 2, Ratten 2, Pearce, Camporeale, Murphy, Hamill, Manton.
Adelaide: Ricciuto 3, Modra 2, Bickley 2, Edwards 2, Goodwin 2, Smart, Rehn, Modra, Thiessen, Bassett.
BEST
Carlton: Bradley, Allan, Murphy, Brown, Ratten, Whitnall, Sexton, Camporeale, Koutoufides.
Adelaide: Bickley, Ricciuto, Smart, Hart, Ellen, Goodwin.
INJURIES
Carlton: Pearce (back), Sexton (head knock).
Adelaide: Bond (dislocated left shoulder), Bassett (sprained left knee).
UMPIRES
Loading
J Harvey, C Mitchell, D Humphery-Smith.
ATTENDANCE
42,713 at Football Park.
KEY DUELS
Matthew Allan v Shaun Rehn: Allan's dominant second quarter provided the spingboard for Carlton's revival and he continued to have a big influence, much to the delight of his midfielders/onballers, against an in-form opponent who had swept just about everything and everyone out of the way this season.
Lance Whitnall v Peter Caven: The 18-year-old Carlton centre half-forward showed further proof of his class and maturity with a four-goal performance. Caven is not shaded often.
Anthony Koutoufides v Matthew Robran: Koutoufides' stats were modest enough, but compared with those of Robran, who was benched for a while, they were quite prolific. And with that physique and athletic ability, why shouldn't Kouta continue to succeed at centre half-back?
FROM THE ROOMS
David Parkin (Carlton): "It was obvious to me in the lead-up over the last fortnight – the player-planning stuff we did in the middle of the week and in terms of the match committee, too, in the way we got our act together – that there was a very strong, right-across-the-board focus like I knew we'd come to play and I knew once we got started we'd come to win."
Loading
Malcolm Blight (Adelaide): "Our start was probably the most disappointing we've had and we've kicked six goals. I thought they (Carlton) were terrific all night. They deserved to win it. I've been here for a season and 16 games now, and I think it's probably the most disappointing loss I've been involved with. Carlton tested us in every way strategically, which we didn't handle too well, and our so-called name players were tested physically and strategically and didn't do very well."
HERO
Craig Bradley (Carlton): At 34, the Carlton captain's stamina still seems similar to that of a quality marathon runner, and his ability to read a game and pile up possessions and neat disposals remains second to none.