Deputy Prime Minister Barnaby Joyce has announced Bridget McKenzie and Andrew Gee will be promoted to cabinet in a reshuffle that rewards his backers in returning to the leadership.
Darren Chester, Keith Pitt and Mark Coulton, who backed Michael McCormack in last week's leadership spill, have been moved out of cabinet.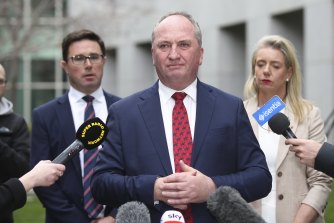 Mr Gee moves from the outer ministry to become Minister for Veterans Affairs and Defence Personnel, replacing Mr Chester.
Senator McKenzie returns to cabinet 18 months after quitting over the sports rorts scandal to take on the regionalisation, regional education and regional communications portfolios, along with drought emergency management.
The reshuffle comes after the Nationals returned Mr Joyce to the party leadership last Monday, sending Mr McCormack to the backbench.
Mr Pitt keeps his portfolios of resources and water but moves to the outer ministry.
David Gillespie is promoted to the Minister for Regional Health and Kevin Hogan will become the Assistant Minister to the Deputy Prime Minister and for local government.
Michelle Landry keeps her role as Assistant Minister for Children and Families.
Mr Joyce has said the Nationals won't threaten supply and confidence but neither will the Coalition partner shy away from discussing its policy aspirations, even where those are at odds with the Liberals.