Day, in particular, was superb, earning a standing ovation as he came off the ground in the final term.
Giants let fast start slip
The Giants began the game much better. Their ball movement was exceptional, dare we say close to the 2017-2018 period where this was their trademark. Their kicking was precise and daring and the Hawks were unable to stifle their flow.
But this turned slightly late in the first term and then was flipped completely on its head in the second term, where Hawthorn overcame a 16-point deficit to lead by eight at half-time.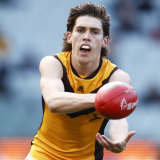 James Worpel's charge through traffic and shot on goal was where the turn began in the first term, and the confirmation of the momentum swing came with O'Brien's aerial brilliance and set shot, which put the Hawks two points up in the second.
O'Brien has teased and, some would say, ultimately disappointed overall across his 90 AFL games, but in this second quarter burst where he took the classic grab and kicked two goals he hinted at what he could be, if fully realised.
DGB slots in very well
It was fitting that the Hawks' No.6 pick from the 2020 draft, Denver Grainger-Barras, had his first touch of the football on debut via an intercept mark. His next touch was after another intercept, this one a strong grab among a sea of players.
Grainger-Barras was well involved in the Hawks' second quarter resurgence. He had another first half pack mark not paid and attacked every contest he hit, but gifted a shot on goal to the Giants with a defensive 50 turnover kick.
Loading
However, all the good stuff was a glimpse of exactly the player he was drafted to be, the Hawks' selection coming off strong showings in the SANFL in 2020.
He was involved in plenty of niggle too, which only further endeared him to the Hawks faithful.
Injured early in the season, he has bided his time in the VFL until now. Alastair Clarkson had often pointed to getting the likes of Grainger-Barras and Will Day (also injured earlier in the season) into the team when trying to sell hope after some of his side's losses.
With both now playing, Hawks fans have a lot more to hang on to when they think of what might be possible in the future.
Unfortunately he will miss next week due to a concussion sustained in the second half.
Keep up to date with the best AFL coverage in the country. Sign up for the Real Footy newsletter.