A man who helped to arrange the daylight execution of a Sydney solicitor has been found guilty of murder, after a jury was told he communicated with the gunman, gave him items before the killing, and arranged for him to be driven away afterwards.
Abraham Sinai faced trial in the NSW Supreme Court accused of collaborating with the killer who ran up to Ho Ledinh, 65, and shot him three times at close range as he sat outside the Happy Cup Cafe at Bankstown on the afternoon of January 23, 2018.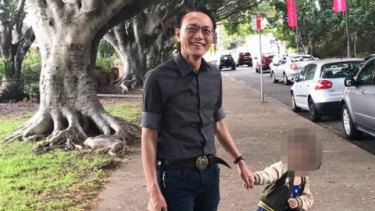 Bystanders came to Mr Ledinh's aid, but the father-of-five died at the scene. The gunman, Arthur Kelekolio, pleaded guilty to murder in April.
On Monday afternoon, a jury found Sinai guilty of murder for his role in the killing.
Prosecutor Sean Hughes had told the jury Sinai was involved in "a coordinated project, the outcome of which was the death of Ho Ledinh", and his involvement included giving the shooter items about half an hour beforehand and arranging for a van to drive him away.
Mr Hughes said jurors would have "absolutely no doubt" Sinai was "in on" the murder – "before, during and after".
The prosecutor argued the motive for the "brazen" killing was Mr Ledinh demanding money from a man called Khai. Sinai was described as Khai's "right-hand-man", someone who would take care of his business, collect his debts and resolve any issues.
One of the exhibits in the trial was a recorded conversation between Sinai and another man, where the pair discussed the execution of bikie boss Mick Hawi, the getaway cars used in that case, and how those individuals were caught on CCTV.