If you're having a hard time understanding what the restrictions are where you are in Australia, we've compiled a helpful graph that shows the rules for each state and territory.
If you're looking for a bit of insight into the number of cases in each state and territory overtime, covid19data.com.au has compiled an interesting representation of how each area is tracking compared to last year's outbreaks.
Some welcome news from over the ditch, with the New Zealand government announcing the resumption of quarantine-free travel with parts of Australia next week.
New Zealand halted its "travel bubble" with Australia on Saturday as an outbreak of the highly contagious Delta variant took root in Sydney and several other Australian cities.
COVID-19 Response Minister Chris Hipkins said quarantine-free travel will resume with Victoria, South Australia, Tasmania and the Australian Capital Territory from Monday, although authorities would continue to review the situation until then.
"The cabinet agreed that partially lifting the pause was the appropriate course of action," Mr Hipkins told a news conference.
"The health advice is that the spread of COVID-19 in these parts of Australia has been contained at this point," he said.
Travellers will be required to provide a negative COVID-19 test pre-departure and must not have visited the blocked states and territories in recent days, Mr Hipkins said.
The pause in travel with Western Australia, New South Wales, Queensland states and the Northern Territory will be reviewed on Tuesday, he added, to allow test results to be returned and a further assessment of the situation.
NSW Health has announced a number of new exposure sites following interviews with COVID-19 cases today. Most of the venues are in Sydney's eastern suburbs, including a number of shops at Eastgardens on Friday.
Anyone at these venues at these times should get tested immediately, self-isolate for 14 days and give NSW Health a call of 1800 943 553 if they have not already received an SMS.
Pattison's Patisserie within Westfield Bondi Junction on Monday, June 21 from 2pm to 2.30pm
Kensington 7 Eleven on Tuesday, June 22 from 12.50pm to 1.10pm
Bentley Restaurant Bar in Sydney CBD on Wednesday from 6pm to 9.40pm
Rose Bay Domino's Pizza on Saturday from 1.25pm to 1.40pm (note: this venue has previously appeared on the list, but this is an updated timeframe)
The Crossways Hotel at Strathfield South on Saturday from 3.30pm to 5pm (note: this is an additional time – an alert was previously issued for Wednesday from 7pm to 10.30pm)
People who were at the following venues at these times should immediately get tested and self-isolate until they receive a negative result:
Bondi Beach Oporto on Friday from 10.45am to 10.55am
Eastgardens Woolworths on Friday from 12pm to 12.30pm
Eastgardens Big W on Friday from 12.30pm to 12.50pm
Eastgardens Kmart on Friday from 12.55pm to 1.15pm
Eastgardens Reject Shop on Friday from 1.15pm to 1.30pm
Eastgardens level two food court on Friday from 1.30pm to 2.15pm
Eastgardens level three play area (next to Woolworths) on Friday from 2pm to 2.25pm
Double Bay Woolworths on Saturday from 7pm to 8.15pm
Blaxland Supa IGA on Sunday from 6am to 4pm
We've had nude sunbathers, a man describing himself as the 'prime creator of the earth', and Deputy Prime Minister Barnaby Joyce being fined over various COVID-19 rule breaches. Now a travel company has been fined $5000 after taking three busloads of tourists from Sydney to a zoo in NSW's west.
Staff at Taronga Western Plains Zoo in Dubbo refused to let the 128 people on board off the buses and called police when they arrived about 9.30am on Monday.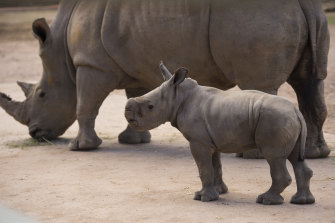 Police said at least 76 of the passengers were not permitted to travel outside of Greater Sydney under current public health orders.
Officers spoke to the tour operators and discovered the group left Sydney on Friday and had travelled throughout regional NSW after the public health orders were updated on Saturday.
The guests were returned home immediately and the tour company issued a $5000 infringement notice.
NSW Deputy Police Commissioner Gary Worboys said the company owner even told police he was aware of the lockdown rules but decided to continue the tour as planned anyway.
"But the staff at the zoo did exactly the right thing – they isolated the risk and alerted police. They did a great job to protect the local community," he said.
In total, 34 fines for failing to follow health orders were issued on Monday, and of those 16 were $200 infringements for failing to wear a fitted face mask.
Now to step over to some world news. This week we have launched a series on the biggest question in geopolitics: USA v China – who will win the superpowers' struggle for world domination.
North America correspondent Matt Knott and North Asia correspondent Eryk Bagshaw have been examining the two nations' power, reach and influence across several criteria to determine which one has the upper hand in the superpower showdown, one that US President Joe Biden has called "the competition to win the 21st century".
Today on our podcast Please Explain, Eryk and Matt join Nathanael Cooper to discuss this fascinating series and just what we can expect as the two most powerful countries in the world fight for global supremacy.
Back to the earlier press conference with Health Minister Greg Hunt, who said the Commonwealth respects the decision of states and territories pushing to reduce the number of international arrivals, but noted the current COVID landscape.
"It's important to recognise that difference between a year ago and where we are now. We have stronger controls at the borders. We have stronger testing, stronger tracing. We have 7.5 million vaccinations that have been delivered," he said.
His comments came after Queensland and Victorian leaders called for the number of people arriving into Australia from overseas to be reduced to be able to better manage the COVID-19 response domestically.
"We would encourage every state and territory to help bring home as many Australians as possible, to bring families back together, to allow people to come home," Mr Hunt said.
"We recognise and respect their decisions, ultimately, but New South Wales has done the heavy lifting on behalf of the nation. They're continuing to do that."
Mr Hunt said the multiple "rings of containment" starting with the quarantine system meant Australia had been kept safe from the worst of the pandemic.
"I'm advised by the ABF that over 80 per cent of people that have come into Australia during the course of this pandemic and in particular at the moment, are Australians or permanent residents or their family," he said.
"But bringing people home or bringing in critical workers. Doctors or nurses. People involved in engineering. People who are critical to the operation of different roles, functions and services and facilities in Australia. They are absolutely critical to keeping Australians going."
Australian Medical Association President Dr Omar Khorshid has added to Health Minister Greg Hunt's assertion that Pfizer is still the preferred shot for people under 60.
"My recommendation for all Australians is for people to listen to the expert's advice, which is ATAGI," he said.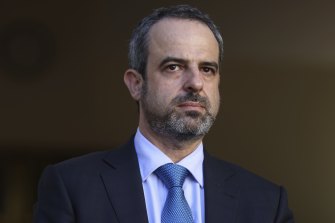 "They've done the work to do the risk analysis for us, you don't have to do it yourself, and they've recommended that people under the age of 60 get the Pfizer vaccine.
"I don't have any objection to a younger person deciding to get the vaccine they can get now, instead of waiting for Pfizer, but I believe we should follow ATAGI's recommendation because they're the experts."
Dr Khorshid said it was "reasonable" the Prime Minister had given Australians worried about outbreaks across the nation "a way to do something concrete to protect themselves" but the management of these outbreaks did not necessitate a change in approach.
"However, we know there is a demand for [AstraZeneca], because people have been calling up GPs and asking for it," he said.
Aged care providers have backed the government's decision to make coronavirus vaccinations mandatory for aged care workers but received no information about how the rollout will happen, raising concerns about vaccine hesitancy and workforce shortages.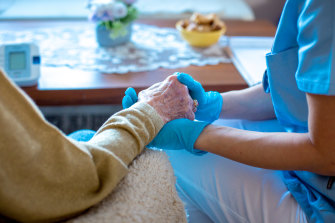 Industry groups are demanding the government send vaccination teams back through the country's nursing homes to ensure the two-thirds of aged care workers who have not had a COVID-19 jab get one before the new September deadline.
The country's chief health and medical officers recommended against mandating vaccines in aged care as recently as June 4, warning of unintended consequences for the delivery of care to elderly Australians and workforce shortages.
Prime Minister Scott Morrison announced on Monday night that national cabinet had agreed all residential aged care workers will have to have at least their first vaccination by mid-September or be unable to go to work.
Following on from yesterday's announcement that anyone under the age of 40 is now able to request the AstraZeneca vaccine, Mr Hunt wouldn't say how many people in that age bracket were interested in getting that vaccine.
"I won't put a figure on that," he said. "This is responding to the fact that there have been requests under the informed consent process, under the existing ATAGI rules, under the existing processes."
Mr Hunt would say however that 4.6 million doses of AstraZeneca and almost 2.8 million doses of Pfizer have been administered so far.
He said earlier that the medical advice has not changed and Pfizer remained the preferred vaccine for under 60s.
"The difference here is that there has always been the capacity for informed consent," he said.
"Some GPs have reported that they have excess supply and excess spaces, and so if there are people who wish to access it, by informed consent, via the existing ATAGI rules, then that is simply being enabled."
GPs will be able to claim for vaccine consultations for under 50s by the end of the week after the Commonwealth announced doctors would be covered by an indemnity scheme for administering AstraZeneca jabs for under 40s.
"We will be extending our Medicare item for over 50s to have vaccine consultation to the under 50s. And I think this will be important and that will be developed over the coming days," Mr Hunt said.
"Significantly, we will update the eligibility checker and provide additional advice to all GPs during the course of the next 24 hours."
Health Minister Greg Hunt said the country is on high alert with 25 cases confirmed across the country today.
"We are obviously on high alert," he said.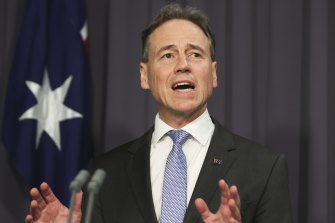 "What we are seeing, particularly in NSW, is those case numbers stabilising. Particularly those cases in the community with cases being diagnosed within isolation.
"Mr Hunt said there was one person in intensive care in Australia, and he was thankful that no one has so far caught COVID in Australia and died from it.
More than 7.5 million vaccines have been administered to date, and 1.47 million people are now fully vaccinated.
Mr Hunt said that means now 7.2 per cent of the eligible population has had both doses.
"We have over 4.4 million Australians over the age of 50, or 51.3 per cent of the over 50s population, that have been vaccinated. 60 per cent of over 60s, and 68.5 per cent of over 70s. Our most vulnerable group," he said.