Indonesia has been identified as the country with the most land at risk of sea level rise, adding to the threats climate change will pose to Australia's populous northern neighbour.
New satellite data has found Indonesia has 118,200 square kilometres of land at two metres or less above mean sea level, or an area 14 times larger than previously thought, according to research published Wednesday in the Nature Communications journal. That land, which amounts to about 6.3 per cent of the archipelago, is already home to 17.2 million people.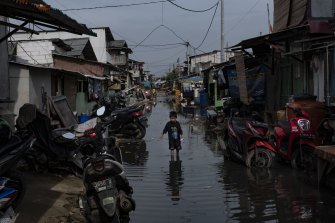 Remote-sensing Light Detection and Ranging (LiDAR) pulses detected land around the world that is home to 267 million people living at two metres above sea level or lower, the research found, putting them at flooding risk.
Assuming seas will rise about a metre by 2100 as the climate heats up, those at risk will swell to 410 million even assuming no population increase, with about 72 per cent of them living in the tropics, it said.
"Consequently, whether measured by area, population size or population growth, the burdens of relative sea-level rise are likely to fall [disproportionately] upon developing countries in the tropics that often have limited capacity to adapt," the paper said.
Loading
Aljosja Hooijer and colleagues at Deltares, a Dutch-based research institute, said that while tropical Asia, in particular, was known to have vulnerable coastal and delta regions before, LiDAR allowed much more precise estimates to be made. The work, done to 5-kilometre resolutions, would be refined further to 1-kilometre, he told the Herald and The Age.
Dr Hooijer said land elevation data had received relatively limited scientific interest so far, simply because existing data was highly inaccurate with errors well over one metre.
"Our new data show coastal lands to be substantially lower than was known before, which will translate into substantially higher flood risk of course," he said.