The latest COVID-19 outbreak has prompted the NSWRL to suspend all of its competitions, including the Knock On Effect NSW Cup, until July 17.
The development comes as the NRL investigates a potential bubble breach involving Cronulla star centre Josh Dugan.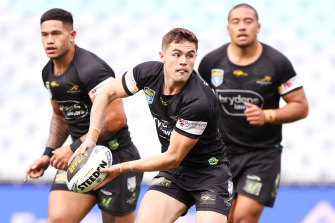 Round 16 of the traditional reserve grade competition was scheduled to kick off with the Panthers hosting the Eels at BlueBet Stadium on Friday. However, that fixture and others slated for the Ron Massey, Jersey Flegg and women's tournaments, have been postponed for at least a fortnight.
Competitions in regional areas outside the state's hotspots can still proceed.
It's a huge blow for the state's promising footballers, many of whom weren't able to play at all last year due to the pandemic. The move will put pressure on NRL coaches in coming weeks, who may need to risk selecting lower-grade players despite a lack of match play.
The NSWRL decision will affect hundreds of footballers, but the governing body was left with little choice given the NSW government lockdown. While NRL players are permitted to play after being placed under level-four protocols – which require them to remain at home unless training or completing essential household tasks – a similar arrangement was impractical for second-tier players given many have other work commitments.
The NSW government has indicated that lockdown for Sydney residents won't be lifted before July 9 and the NSWRL's target date of July 17 was chosen with a view to allowing players a week of training before a resumption of play.
Meanwhile, Dugan's latest misstep comes as the former representative star struggles to land a contract for next year. A photograph of Dugan enjoying dinner with three male friends in Potts Point has emerged on social media after being posted on Saturday, despite all NRL players being ordered into stage-three lockdown last week and told to steer clear of pubs, clubs and restaurants.