Accusations that Brazilian President Jair Bolsonaro turned a blind eye to possible corruption in a deal to purchase coronavirus vaccines have heightened threats to his presidency, including a move to recommend slapping him with a criminal charge.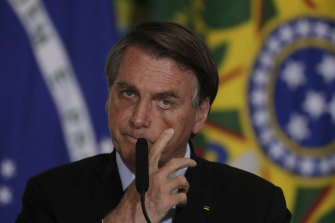 The claims have added impetus to the opposition's impeachment drive and left the Brazilian leader's allies in Congress evaluating the costs of their support.
Bolsonaro, who has been targeted by nationwide street protests in recent weeks, has called the Senate committee investigating the government's COVID-19 response a "national shame" aimed at undermining his administration.
More than 515,985 Brazilians have died of COVID-19 from 18.5 million confirmed cases, according to the Johns Hopkins University tracker. About 12 per cent of the population of 212 million has been fully vaccinated.
Read the full story here
Major Australian companies are rolling up their sleeves, so to speak, offering to aid state and federal governments with the national vaccine rollout.
Woolworths Group Head of COVID Response, Ross Spencer, said the company had already suggested it play a "proactive role" in the vaccine program in an effort to reduce the stress on Australia's health system.
Mr Spencer said the supermarket had existing systems in place to roll out vaccinations to its 160,000-odd employees through its previous flu vaccination programs.
"We'd welcome the opportunity to do the same with the COVID vaccine, particularly for our frontline teams providing an essential service to Australian communities," he said.
The company would also be open to offering up its facilities for governments to set up public vaccine pop-ups.
"We'll continue to work with governments to see how we can best support the rollout to help keep the pressure off the health system," Mr Spencer said.
Meanwhile, National Australia Bank CEO Ross McEwan revived his comments from earlier this year in saying NAB assist with a corporate rollout, saying the bank was already providing flexibility for employees to get the jab during business hours.
Yesterday saw the third-highest total of vaccines put into arms so far this rollout.
Almost 145,000 doses were administered according to Commonwealth data, but it's unclear how many of those doses were given to eager under-40s who signed up for AstraZeneca.
So far, five months into the rollout, 7,645,585 doses have been administered across the country.
Almost a third of the eligible population over 16 (29.28 per cent) has had a first dose, while more than half of the over 50s (51.84 per cent) have had first doses.
Meanwhile, New South Wales, Queensland and Western Australia all racked up a record-breaking number of daily vaccine doses administered yesterday.
In NSW there were 46,010 vaccine doses administered on Tuesday, breaking the previous record set last Thursday by just over 3000. In Queensland there were 32,551 and in WA there were 13,647.
You can see view the vaccine rollout progress in your state/territory using the interactive tables below:
Just one thing to keep in mind when looking at these tables: the federal government does not publish daily data on the number of people who have received a second vaccine dose from their GP and some states do not provide this information for people fully vaccinated at state-operated vaccine hubs.
That means our data likely understates the true number of people fully vaccinated in each state/territory and overstates the number of people who have received their first vaccine dose.
To the courts now. The parents of alleged conwoman Melissa Caddick have staked a claim in a $2.5 million Edgecliff penthouse bought by their daughter, with their barrister telling the Federal Court they should be permitted to inspect a valuation related to the luxury property.
Ms Caddick, a self-styled financial adviser who was accused of stealing more than $30 million from her clients over eight years, disappeared in mid-November last year, within hours of the Australian Federal Police executing warrants at her Dover Heights home on behalf of the Australian Securities and Investments Commission.
Michaela Whitbourn has the full story
To sporting news, all 18 AFL clubs will be based in Victoria from Wednesday night and all nine of the round 16 matches are likely to be held in the state after Adelaide and Port Adelaide were sent on a late dash to Melbourne, and the Tasmanian government decided against giving Fremantle playing in Launceston.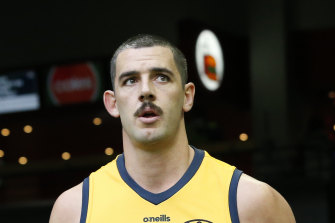 The Freemantle Dockers' match against Carlton will now be played as Saturday night game in Geelong.
"That will disappoint many people especially Carlton supporters … we've just advised the AFL of that decision," Tasmanian Premier Peter Gutwein said on Wenesday afternoon.
More on this story here
NSW Health has announced a number of new exposure venues in Sydney after NSW recorded 22 new COVID-19 cases overnight. Eleven of the cases were in isolation for their full infectious period and five were in isolation for part of their infectious period.
Anyone who was at Bunnerong Gymnastics at Matraville last Wednesday from 4pm to 5pm should get tested immediately, self-isolate for 14 days and give NSW Health a call on 1800 943 553 if they have not yet been contacted. People who were at the following locations should immediately get tested and self-isolate until they receive a negative result.
Blaxland Supa IGA on Sunday from 6am to 4pm
Bondi Beach Australia Post on June 21 (a Monday) from 2pm to 2.30pm
Bill Scott's Butchery on June 22 (a Tuesday) from 3.45pm to 4.15pm
Bunnerong Gymnastics at Matraville last Wednesday from 3.30pm to 4pm and 5pm to 5.30pm
Bondi Junction Harvey Norman on Friday from 11am to 11.40am
Rose Bay Chargrill Charlie's on Sunday from 10.50am to 11.05am
Rebel Randwick within Royal Randwick Shopping Centre last Wednesday from 3.45pm to 4.15pm
Bondi Junction Jaycar on Thursday from 3.30pm to 3.40pm
North Strathfield Fitness First commercial building on Friday from 12.55pm to 1.15pm
Eastgardens Kathmandu last Wednesday from 11.15am to 11.25am
Pacific Square Maroubra Shopping Centre on Thursday from 8.30am to 9.10am
Home Affairs Minister Karen Andrews is cranky about the comments from Annastacia Palaszczuk and Stephen Miles earlier in the day about people being allowed to travel to and from Australia multiple times.
She's described the remarks as a "smokescreen to hide the inefficiency and ineffectiveness of quarantine that is administered and managed by the Queensland government".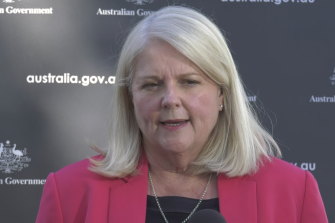 Ms Andrews says Border Force data shows that 80 per cent of returning travellers are Australian citizens, permanent residents or immediate family members.
"The Australian Border Force has now issued a statement dealing with the misrepresentations that have been made about the statistics of incoming passengers earlier today," she said.
"Quite frankly, what Premier Palaszczuk and her deputy Stephen Miles are doing is trying to create a distraction from their own quarantine failures. The reason that we are in lockdown here, particularly in south-east Queensland, but also in parts of northern Queensland are because of failures by the Palaszczuk government."
Ms Andrews also took aim at Ms Palaszczuk over her potential travel to Tokyo for the Olympics, which the premier said the other week was the reason why she was getting the Pfizer vaccine even though her age put her in the group to have AstraZeneca.
"She's arguing against her own travel to Tokyo," Ms Andrews said. "It will be interesting to see what Palaszczuk now has to say about whether or not she's going to travel to Tokyo."
Minister for Home Affairs Karen Andrews holds a press conference on international arrivals into Australia.
Back to NSW, where a range of new venue types will be required to use QR codes by July 12.
The venues that have to display Service NSW QR codes are retail businesses and supermarkets; individual shops within shopping centres (which will also need display QR codes at entry points where practicable); gyms; office spaces, including call centres; manufacturing and warehousing; universities and TAFE; schools, including teachers and visitors (such as parents and contractors) but excluding students.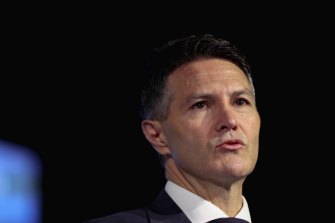 NSW Customer Service Minister Victor Dominello said he had already spoken to major retailers and supermarkets, telling them he expected them to put the system in place as a matter of urgency.
He said businesses did not need to wait until July 12 to install the app, as there was a lot of traffic going through those businesses and a number of businesses were shut down during the lockout period.
The app had been an important response to the COVID outbreak, he added.
"From 1 January this year, we've had over 5.5 million people in NSW download the app 330 million check-ins … but we've seen with COVID how fast it moves. Delta moves at lightning pace, so we need to adjust our circumstances accordingly."
Mr McGowan also said during the press conference that a stricter approach needed to be taken against people leaving the country, given the risk they pose to the community upon their return.
"Now some reasons are legitimate. Some are legitimate, but the vast majority of people going overseas in my view shouldn't have. They should stay home while there's a pandemic running wild around the world because inevitably they want to come back," the Premier said.
"And when they come back some of them will be positive. And then they displace others who have been waiting overseas to get back … so there's a real problem we face here, that too many people still are going overseas for various reasons."
Australians are allowed to travel overseas for conferences, study and compassionate reasons, among other allowances.
But Mr McGowan said the Australian economy was "incredibly strong" and there were jobs available in his state.
"It just strikes me as odd that lots of people are going overseas for work in the middle of a pandemic, to pandemic ridden countries while we have skill shortages here in Western Australia.
"I think we need to take a much tougher approach with people going overseas, particularly to COVID-ridden countries, and then bringing it home."