Cricket Australia and the game's governing body have been urged by a world leader to do more to fight climate change.
The Prime Minister of Grenada, Keith Mitchell, has called on CA and the International Cricket Council to sign the United Nations' Sports for Climate Action Framework, a movement of sports organisations working to achieve the net zero emission targets of the Paris Agreement by 2050.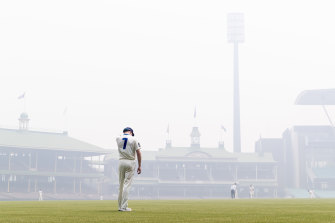 The call came as the Australian men's team arrived in St Lucia by charter flight for next month's one-day international and Twenty20 series against the West Indies.
The impact of climate change on cricket was laid out in the 2019 Hit For Six report, released in Australia by the Australian Conservation Foundation, which detailed the effect of drought on the preparation of grounds and pitches in this country, India and Sri Lanka.
There are seven Australian-based clubs and organisations among the 244 signatories in the UN's framework but CA is not one, nor are any other national cricket governing bodies or the International Cricket Council.
"This is something we need to correct," Mitchell said in his Sir Frank Worrell Memorial Lecture, titled "Climate Change and Sport", delivered online for the University of West Indies on Tuesday.
"I therefore call upon the WICB [West Indies Cricket Board] to take the lead in signing up to this and to advocate within the ICC for international cricket to become part of this initiative.
"As small island developing states, we in the Caribbean have to take the lead at all levels in the fight against climate change, as we are disproportionately affected by its impact.