For Accel moving towards a cleaner company will be a slow and expensive process thanks to remediation costs and the long dated schedule for the closure of coal generation sites and their replacement with low carbon hubs.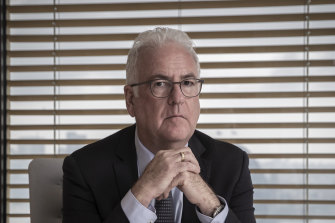 The new carbon neutral AGL will be a retail provider of electricity and other services such as broadband and is the smaller twin but will carry almost $3 billion in debt via banks and the issue of notes.
But on separation, its "clean" status will allow it the opportunity to raise cash from investors who increasingly shun companies without good environmental credentials.
AGL's announcement of its demerger plans included an update on 2021 profit which is now expected to be at the lower end of the previously provided range of $1.58 billion to $1.84 billion.
While it is hard to dispute the logic of the AGL board's decision to demerge its retail business, investors have questioned why only one year ago it completed a $622 million share buyback when it is now trying to conserve capital.
Loading
MST Marquee analyst and previous critic of AGL, Mark Samter, queried what the board had learned over the past year and why shareholders should have confidence it is progressing on the right path with the demerger.
Interim CEO and chairman-elect of the new AGL Hunt told an investor briefing on Wednesday that, "there is no doubt that the winds have changed substantially faster than many people had anticipated".
"From my perspective those winds have been extremely fast and I certainly didn't see quite the level of change and the acceleration of that change…12 months ago."
Clearly the board miscalculated the response of governments to the community pressure around the environment.
"No doubt the progressive intervention in the market of various governments and government regulation, the transition to low carbon and impacts of renewable generation has moved the market and will continue to move the market extremely quickly," Hunt said.
He said there was now a genuine view that the new structure was the best option to "turn the ships around and head them into these forces".
"I am not someone that shirks a challenge. I am looking forward to that challenge – albeit not an easy one."
The Market Recap newsletter is a wrap of the day's trading. Get it each weekday afternoon.