Isaac Greener and his family were desperate for their Queensland holiday. From Sherbrooke, on the edge of Melbourne, they lost power for more than a week earlier this month in the wild weather that lashed the Dandenongs.
They landed on Magnetic Island on Friday only to be amongst holidaying Victorians plunged into lockdown on Tuesday night.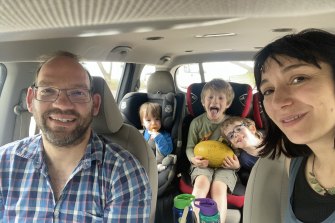 "We had this holiday booked for a long time, and we changed it multiple times to get here," Mr Greener said.
Victorian authorities added South-East Queensland and Western Australia's Perth and Peel regions to its list of "red zones" at 1am on Wednesday.
They are on top of its existing red zones, Greater Sydney and the Greater Darwin area. Lockdowns and border restrictions mean Victorians face spending 14 days in quarantine if they come home.
He said he was not feeling confident Magnetic Island would be revoked as a red zone by July 9, when they were due to head home.
"If we're going to be spending 14 days in lockdown in Melbourne, then we'll try and stay here longer, but it's obviously really complicated with work and school and all the rest of it," Mr Greener said.
People in red zones who are not residents of Victoria are barred from entering the state without an exemption, while residents can return home, but they have to obtain a permit and quarantine for 14 days.