He said it was fortunate that the contact-tracing system in Victoria had been so much improved, "because we have to, otherwise we wouldn't keep up".
Five weeks after a coronavirus cluster was unearthed in Melbourne, the threat has risen elsewhere in Australia to the point where about 12 million people are in lockdown.
Associate Professor O'Brien said Victorians now needed to act as if coronavirus was still in the community, even following many days in which no cases had been detected outside those already in home quarantine.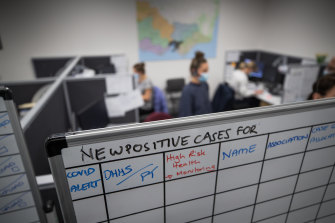 In last year's second wave, Victoria's contact-tracing system was overwhelmed and people who were COVID-positive reported they were waiting more than a week to be interviewed, leaving the virus to skip ahead unchecked.
During the latest major outbreak, discovered in late May, Victorian health officials said the contact-tracing overhaul, including vastly improved technology, allowed them to begin tracking the contacts of a confirmed case even before they had finished interviewing that case.
Teams were sent out to test people in households at risk.
Within the first 60 hours of the Whittlesea outbreak being detected on May 23, the team being led out of the Austin Hospital managed to contact five rings of potential transmission within just 60 hours, and they identified the first dozen cases in two days.
Still, Associate Professor O'Brien said experience suggested it would have been "very difficult" to contain Victoria's latest concurrent outbreaks without a lockdown, particularly given that a new outbreak of the Delta strain of the coronavirus emerged in Melbourne when residents were subject to stay-at-home orders.
That outbreak would have probably spread much further if not for the existing restrictions.
"We got away with only 15 cases," he said. "It had been out there for a while but it never got the chance to take off because people were in lockdown. So I think there is your natural experiment."
Sydney's Delta outbreak has grown to more than 170 cases within two weeks, including 22 cases reported on Wednesday.
Victoria recorded a single community case of coronavirus on Wednesday – a person who had been in isolation throughout their entire infectious period, and Associate Professor O'Brien said earlier there were now promising signs that the May and June outbreaks, including the Southbank cluster, had been contained.
"The public's been amazing in their response to testing … so the chances that things are out there now from those ones are looking less and less likely," he said.
Loading
But he said the people should remember where the Whittlesea outbreak started – a person who contracted the virus in hotel quarantine in South Australia, which at the time also appeared not to have gone anywhere, before it reared its head again two weeks later.
He said there had been little respite for Victoria's 2500-plus team of contact tracers, who were just starting to feel a sense of achievement when they received notice of the Sandringham cases last week.
"It's like you've just run a marathon, and you get to the end and they say, 'That's great but, sorry, you have to go back to the start.'
"It's just that constancy of the fact it just keeps coming back."
The Morning Edition newsletter is our guide to the day's most important and interesting stories, analysis and insights. Sign up here.