Honey Birdette has been sold to the company behind Playboy magazine in a $US333 million ($443 million) deal set to rapidly grow the Australian lingerie chain's international presence.
Announced overnight in Los Angeles, PLBY Group, which is listed on the Nasdaq stock exchange, told investors it had purchased the Australian brand with a combination of cash and stock.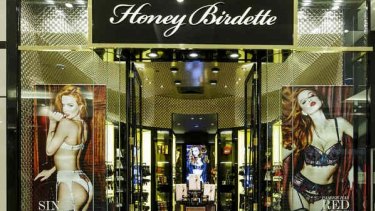 Honey Birdette was founded in 2006 by Eloise Monaghan. The business operates around 60 stores mostly in Australia, with some in the US and UK. Nearly two-thirds of the business was owned by retail veteran Brett Blundy through his investment company BBRC International.
PLBY Group was started by the late Playboy founder Hugh Hefner and runs a number of operations under the Playboy brand, including various fashion products, sexual amenities, gaming locations and beauty products.
Chief executive Ben Kohn said the acquisition of Honey Birdette would help expand Playboy's portfolio and provide it with product design, sourcing and direct-to-consumer capabilities to grow its apparel business further.
"We strongly believe in the power of brands, and are thrilled by Honey Birdette's potential to become a multi-billion-dollar luxury lifestyle franchise," he said.
"I've been enormously impressed by Eloise and the rest of the Honey Birdette team and the organic, rapid growth they've driven. This acquisition is expected to further our mission to become the leading pleasure and leisure lifestyle platform and our commitment to deliver long-term value to our shareholders."
Honey Birdette is expected to report $73 million in revenue and $28 million in earnings for the 2021 financial year, with profits having nearly doubled on the prior-year period.
The company has courted controversy during its 15-year existence, having been repeatedly called out by the advertising standards watchdog for its racy advertising posters and sparking protest over its treatment of sales assistants, who were allegedly referred to as "showgirls".