"We've had very few deaths due to COVID-19 in Australia in people under the age of 50, and wouldn't it be terrible that our first 18-year-old in Queensland who dies related to this pandemic died because of the vaccine?" Dr Young said.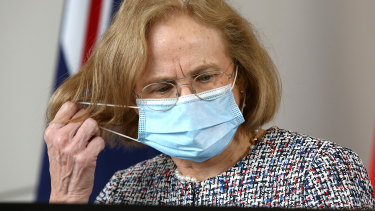 In NSW, Premier Gladys Berejiklian said her government would continue to follow the advice of federal regulators.
"What national cabinet agreed to, which is on the public record, is that GPs would not face any legal consequences … to make sure that they can administer the vaccine with confidence depending on their health advice," she said.
"I won't comment beyond that but to say that if you're under 60 and you want the AstraZeneca, you should have a conversation with your GP."
Victorian Health Minister Martin Foley said confusion over age recommendations for the AstraZeneca vaccine was "an unfortunate reflection of the rushed conversation that the Prime Minister kicked off late on Monday night without talking to anyone".
Loading
"What we need is certainty and consistency and confidence in the vaccination program," he said.
"That's what I'm all about. And I won't be adding to the confusion."
Federal Health Minister Greg Hunt said on Wednesday afternoon that nothing had changed and pointed out the advice from ATAGI published on June 17.
It lists Pfizer as the preferred vaccine for people aged 16 to 60.
It also states: "AstraZeneca can be used in adults aged under 60 years for whom Comirnaty (Pfizer) is not available, the benefits are likely to outweigh the risks for that individual and the person has made an informed decision based on an understanding of the risks and benefits."
Dr Young said she had not had a conversation with Mr Morrison and she "genuinely doesn't understand his processes".
"I know an urgent meeting has been called by the Commonwealth [on Wednesday] with chief health officers to talk this through, so I'm sure I will find out more," she said.