Singapore: China's President Xi Jinping has told thousands assembled in Beijing's Tiananmen Square that the Chinese Communist Party has altered the development of the world.
Celebrating 100 years since the founding of the CCP, Xi on Thursday said the Chinese people had stood up under the leadership of the Party.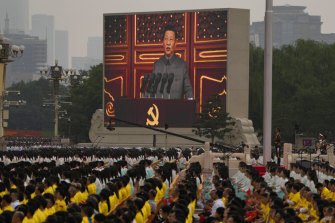 "This great transformation of China from a poor and backwards country laid down the fundamental conditions necessary for realising national rejuvenation," he said.
"Only socialism could save China and only socialism with Chinese characteristics could develop China."
The highly-controlled centenary celebrations were opened by fly-overs of China's newest stealth fighter jets, the J-20, shots from 100 cannons and thousands singing Socialism is Good and Without the Communist Party, There Would Be No New China in unison.
Drawing huge cheers from the audience, Xi warned any foreign powers who attempted to bully or subjugate China would "find themselves on a collision course with a great wall of steel forged by the Chinese people".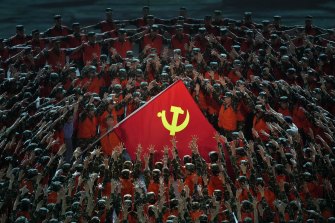 "We have never bullied or subjugated the people of any other country and we never will," he said.
China has faced disputes at the United Nations over its territorial claims to the disputed South China Sea, been accused of genocide against the Muslim-minority Uighurs in Xinjiang and has eroded democracy in Hong Kong. Beijing has launched $20 billion in trade strikes against Australia over a series of national security and human rights disputes during the past 18 months.