Sydney's bout of thick fog has extended to a second morning, cloaking the city in cloud and forcing harbour ferries to suspend services.
Overnight rain and cool conditions provided the perfect ingredients for the widespread fog on Thursday, with visibility dipping to as low as 100 metres in places, Ben Domensino, a senior forecaster at Weatherzone, said.
Patches of eastern Sydney enjoyed a break in the fog around dawn, providing a picturesque scene for those out enjoying the COVID-19 restricted exercise and recreational activities at that time.
The pool of fog over western parts of the city extended its spread once winds became favourable, Mr Domensino said.
The fog began to lift by late morning as temperatures warmed up. Sydney's foggiest times of the year are from April to June although they can appear in any season, Mr Domensino said.
At this stage, Sydney Airport has avoided any major flight disruptions unlike on Wednesday when fog affected some regional airports. "We're pretty good to fly in these conditions," a spokeswoman said.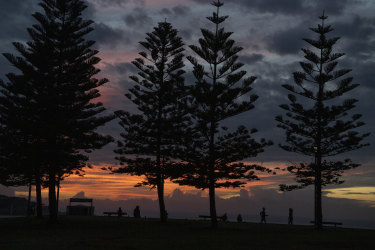 According to the World Meteorological Organisation, fog is similar to clouds forming at ground level, with very small water droplets suspended in the air and visibility at ground level reduced to less than one kilometre.
As the Bureau of Meteorology notes on its blog, for both clouds and fog to form, the air needs to drop to the so-called dew-point temperature where condensation occurs.