West Australian Premier Mark McGowan is anticipated to reveal whether or not the Perth and Peel lockdowns will be extended at 3.45pm (AEST).
If the state of Australia's vaccine rollout has left you bewildered, it's likely you're far from alone. We've stitched together a video compilation that illustrates the growing chaos of the past six months.
Our COVID-19 vaccine tracker has been updated, and is now able to show the number of people who have been fully vaccinated against the virus in each state or territory.
We can provide this level of detail because the health department has started releasing regular data breaking down the number of first and second doses administered in each state or territory.
Until today, this data was not showing up for most states because the health department had only been providing data on total doses for each state or territory, so it was not possible to tease out how many people had been fully vaccinated.
See how the vaccine rollout is tracking in your area using this interactive table:
As it stands, the Northern Territory, the Australian Capital Territory and Tasmania have fully vaccinated the highest proportion of their total populations, with more than 10 per cent of their residents having received a second vaccine dose.
Western Australia has the lowest fully vaccinated rate at 5.57 per cent of its estimated total population, which translates to 148,268 people.
In New South Wales more than half a million people have been fully vaccinated, while in Victoria a total of 457,280 people have received their second vaccine dose.
A man on Queensland's Sunshine Coast, which was due to have its three-day lockdown lifted at 6pm, has tested positive for COVID-19 and works at a local university campus, according to the state's Health Minister Yvette D'Ath.
The patient in his 50s returned a positive result today, after becoming symptomatic on Wednesday and coming forward for a test on Thursday.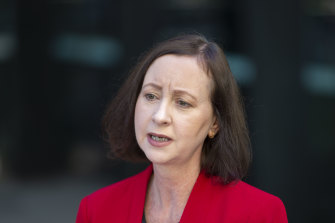 The results has triggered an urgent public health alert for the Sunshine Coast areas of Caloundra, Mooloolaba, Sippy Downs and Maroochydore areas, with residents urged to get tested even if they have only the slightest symptoms.
"The man was only in the community while potentially infectious for two days before the lockdown began, at his workplace, and briefly during lockdown," Ms D'Ath said in a statement on Twitter.
"[He] works at the Sippy Downs campus of the University of the Sunshine Coast and was at work on 28 and 29 June [Monday and Tuesday]."
She said he had minimal contact with others so the campus would not be listed as a contact tracing site.
"In addition, we're asking anyone who was at Coles at Sippy Downs from 8:15am to 8:35am to get tested, but you do not need to isolate until you receive a result as this venue is classed as low risk," Ms D'Ath said.
There is no indication the Sunshine Coast's lockdown will not end as planned at 6pm tonight.
There are warnings that Australia's decision to half the already limited number of people allowed into the country on commercial flights will prompt foreign airlines to stop flying here altogether.
The Board of Airline Representatives of Australia (BARA) – which represents major international carriers that fly here – said that would make it even more difficult for Australians stuck overseas to get home.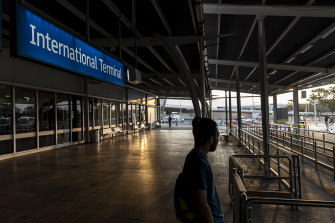 "Despite all the effort they've put in, it gets to a point where the only rational response is to suspend operations to Australia, perhaps for a very long period of time," BARA executive director Barry Abrams said.
"There'll be a reduction in the level of connectivity available to Australians overseas to get home."
Daily arrival limits mean that the major airlines still flying to Australia – such as Singapore Airlines, Emirates and Etihad – are already limited to around 35 passengers.
WA Premier Mark McGowan has buried the lead, announcing several minutes into his press conference that Perth and Peel will exit their four-day lockdowns at midnight tonight.
Here are the conditions for the next three days:
Masks with remain mandatory outdoors and indoors, and on public transport, but will not be required for vigorous outdoor exercise.
Private gatherings of up to 10 visitors indoors and 20 outdoors will be permitted.
All public venues, including hospitality, entertainment, and retail outlets, can reopen with the 40 sqm rule, with a limit of 20 patrons, not including staff, and seated service only.
Weddings and funerals will be limited to 20 guests.
WA has recorded one new local case overnight, a 21-year-old woman. She has been in quarantine with her partner, who is also positive, since Sunday and tested positive on Thursday.
"We do not believe she has been in the community while infectious," Mr McGowan said.
He also praised the Commonwealth decision to halve international arrivals as "the responsible way forward", and will further ease pressure and risk in the hotel quarantine system.
For those still a little confused by what the Prime Minister meant regarding the four-phase plan, the government has issued a detailed template about what may happen.
Angus Thompson here. I've taken the reins from this morning's blogger-in-chief Broede Carmody. It's been a fairly eventful day so far, so here's a few points to bring you up to speed.
Prime Minister Scott Morrison has announced a four-phase reopening scheme to bring Australia back to normality. Each phase will require a new vaccine milestone to be hit. Those milestones will depend on modelling from epidemiologists and vaccine experts.
Far fewer people will be able to come to Australia after National Cabinet agreed to a 50 per cent reduction in passenger numbers due to the risk of the delta coronavirus variant. The Commonwealth will facilitate increased repatriation flights to Darwin for quarantine at Howard Springs while the reduction is in place.
There was a bit of jubilation in the Top End as Northern Territory Chief Minister Michael Gunner announced the lockdowns put in place in Alice Springs and Darwin would be lifted today. Meanwhile, there is an anxious wait in Western Australia, with Premier Mark McGowan due to front a press conference soon about whether or not lockdown measures will be lifted.
It's been a busy week in COVID-19 enforcement for NSW Police, with one of the latest incidents involving a shop owner and customer in the Southern Highlands, who were arrested after refusing to wear masks.
South Australian Premier Steven Marshall says his state has recorded one new case of COVID-19 in the community. The case is a child of the miner who returned to SA via Alice Springs (which means every member of that miner's immediate family has now tested positive).
The locked down Perth and Peel region is facing a longer wait than usual today for its ritualistic mid-morning press conference with WA Premier Mark McGowan.
The presser has been pushed back by National Cabinet and the wait to see as many testing numbers as possible before Mr McGowan announces what restrictions will be lifted from midnight.
With school holidays beginning tomorrow families are nervously awaiting a decision on whether they will be able to leave the Perth metro area on Saturday while businesses are frustrated at the lack of clarity about what the weekend's trading conditions will look like.
As at 12.20pm WST the Premier's office has not indicated when the press conference will take place but WAtoday understands it will be scheduled for mid-afternoon.
The lockdown began on Tuesday after a cluster of three cases emerged in the city's northern suburbs.
To date only one more case has been recorded but the person tested positive while in isolation.
Yesterday Mr McGowan said he could not make a decision on whether to lift lockdown restrictions until Friday.
"We don't know how long or how extensive the lockdown will be until [Friday] at the very earliest and then it may well be there's a step down in measures," he said on Thursday.
"We'll be able to make a final decision on that based upon testing numbers and the outcomes overnight."
NSW Health has just released a new venue of concern in Sydney's Bondi Junction – the suburb where the city's outbreak had its first large transmission event nearly two weeks ago.
Anyone who was at the Coles within Eastgate Shopping Centre at the following times is considered a close contact and should immediately get tested and self-isolate for 14 days.
Tuesday 2pm to 7pm
Wednesday 5.30pm to 6.30pm
In addition, people who were at the Coles at these times is considered a casual contact and should immediately get tested and self-isolate until they receive a negative result.
Saturday 4.20pm to 4.40pm
Saturday 7pm to 8pm