Australians have good reason to be sceptical about a new plan from Scott Morrison to move on from lockdowns, border controls and flight bans.
The Prime Minister calls this a "new deal" but it is only an agreement in principle and can be changed or forgotten as soon as premiers and chief ministers want to go it alone.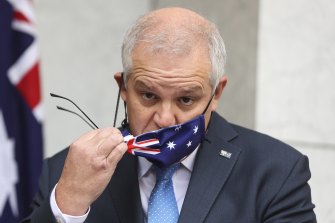 Which is what they tend to do these days, whether Morrison likes it or not.
State and territory leaders only saw the four-stage plan on Friday and are in no rush to close the deal, given the country will not be shifting out of the first stage until next year at the earliest.
It looks concrete, with ideas like dropping restrictions on outbound travel for vaccinated Australians in stage three, but everything can move around. That idea in stage three can be pushed to stage four. And there are no dates or deadlines.
Part of the plan is about optics. Morrison wants to look like he is leading when he is actually following. The biggest single change on Friday, a 50 per cent cut to overseas arrivals for the rest of the year, happened because the Prime Minister gave in to premiers.
This was like the point in March last year when Victorian Premier Daniel Andrews and NSW Premier Gladys Berejiklian joined forces to push faster lockdowns.
With a federal election ahead, Morrison was willing to slash the international arrivals. There was no argument in national cabinet. The closer Morrison gets to the ballot box, the more cautious he will be.