He punched her with a fist several times in the face, causing her to black out momentarily. He dragged her 10 metres by her hair, pulling some out, and forced her head into a brick wall, the judge said.
The family member again called police to say Tongia Heaki was "attacking someone". The judge said the offender "started to smash the victim's face repeatedly into the window of a parked car" and told her, "You're going to pay for killing my friend."
He stood over her, took a ring off his finger and said: "I'm going to shove this ring up your arse.
"The victim blacked out and when she came to she still had her legs in the air," the judge said.
The ring was found in the victim's underwear during the six days she spent recovering in hospital.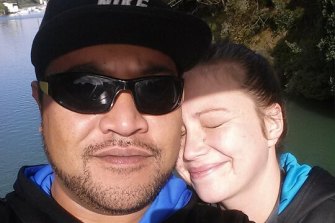 The facts state Naquita Heaki handed her husband a kitchen knife and a hammer from inside the home.
"He moved the knife up and down the victim's right leg so that she could feel the blade through her leggings," the judge said.
"[Tongia Heaki] lifted the victim to her knees and placed her head between his legs, facing downwards. [Naquita Heaki] screamed: 'Kill her, just do it.' The victim thought to herself, 'Just kill me.' "
The police arrived and arrested the Heakis at the scene.
The victim had a swollen face, bleeding lip, suffered two broken ribs and damage to her upper front teeth. Weeks after the attack, she still needed help from her family to shower and eat.
Naquita Heaki told police she had smoked marijuana the night before the incident but "did not think it was marijuana because she did not feel herself at all".
She formed the belief what her husband was saying about his friend being killed was true. The judge said the drug-induced psychosis experienced was a secondary psychosis or "folie a deux" to her husband's transient psychosis, brought about by his voluntary ingestion of illicit drugs.
Her husband gave evidence that he vaguely remembered bits and pieces of the attack and described it as a "coward act". He told police he smoked marijuana the night before and tried ice for the first time.
"When asked what his present attitude was to illicit drugs, he said, 'Don't do it, I don't like it any more and it's not in my future,' " Judge Mahony said.
The judge said it had been a "terrifying ordeal" for the victim who "thought she was going to die".
The judge said the victim had suffered substantial harm and her statement to the court, setting out the psychological impacts, was a "poignant reminder that victims of crime, particularly victims of crimes of violence, carry the impact throughout their lives".
"They are left with an understandable anxiety and fear when going about their daily activities."
He sentenced Tongia Heaki to a maximum of four years and six months' imprisonment with a non-parole period of two years and six months. He will first be eligible for parole on October 25, 2022.
His wife, who spent five months in custody last year, was sentenced to two years and four months' imprisonment, to be served by way of an intensive correction order in the community.
She is not to commit any offence, must submit to supervision by a community corrections officer and must follow any recommendation requiring her to participate in rehabilitation or relapse prevention treatment.
The Morning Edition newsletter is our guide to the day's most important and interesting stories, analysis and insights. Sign up here.