The same capacity limits will be in place for hair and beauty services, fitness businesses such as gyms, places of worship, and public venues like swimming pools, playgrounds, and museums.
Indoor community sport will not be allowed but professional and outdoor community sport including training will be allowed without spectators.
Universities, TAFE, and training services can all reopen.
Weddings and funerals are able to go ahead with as many as 20 guests.
WHERE YOU CANNOT GO:
Visitors are banned from hospitals and aged and disability facilities except for compassionate reasons or advocacy.
People can visit a hospital for end of life situations, to accompany a child, or support a partner through a birth.
Category two and three elective surgeries for public hospitals have been postponed until July 9.
Group fitness classes will also not be allowed.
REGIONAL: If you were in the Perth and Peel region from June 27 but are now in another part of WA you must follow whatever rules are still in place in the city.
Perth and Peel residents can leave the two regions for school holidays but must follow the new restrictions.
People who travel to the regions from Perth and Peel may only get takeaway food from hospitality venues but can visit retail outlets.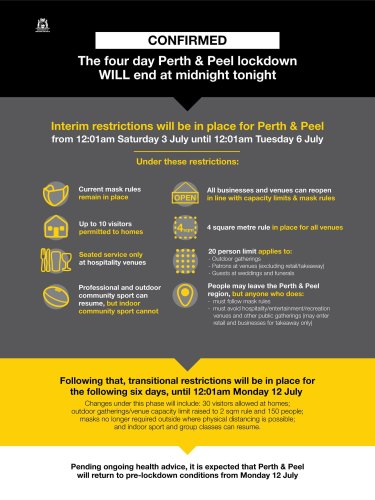 Casual contacts of COVID-19 cases are not allowed to leave the Perth and Peel regions until July 12.
Stage two — July 6 to July 11
MASKS: Masks will still be mandatory for indoor public venues like workplaces and public transport but will not be required in outdoor environments if physical distancing is possible. People are encouraged to keep a mask on them at all times.
PRIVATE GATHERINGS: People can have 30 visitors inside their home or 150 people at a private outdoor gathering.
WHERE YOU CAN GO: The two-square-metre rule will be in place for nearly all venues with a 150-customer limit. The capacity rules will also apply to weddings and funerals. Major sporting venues like Optus Stadium, RAC Arena, and HBF Park will be able to run at 50 per cent capacity.
Indoor and outdoor community sport can start with spectators.
Hospital and aged care and disability facility patients can have four visitors per day.
REGIONAL: People who were in Perth or Peel from June 27 will need to keep following the city rules.
Restrictions ease — July 12
If there are no further cases then WA will go back to pre-lockdown life from 12.01am on July 12.