Deliveries of Pfizer will roughly double in the week of July 12, and drastically ramp up with 2.8 million doses delivered across the month.
Lieutenant-General John Frewen said now that states have vaccine delivery projections, he would be meeting with them on Tuesday to "wargame" a plan for the weeks and months ahead.
That meeting, involving military planners, will look at any holes in the state systems, including workforce and vaccination sites, and work out how those issues can be addressed.
"Many of the jurisdictions have very different requirements, many have remote areas, many have particular challenges that we will work with them to understand how we can best serve each of those jurisdictions in their own requirements," General Frewen said.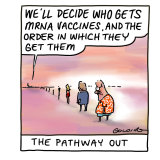 "But, by next week we will be fully aligned and I'm very confident we will be very well postured to meet our aim of having all those Australians who want access to vaccines this year will be able to do so."
The COVID-19 vaccine claim scheme is another boost to the rollout. A spokeswoman for Health Minister Greg Hunt said it is expected to provide more assurance and confidence to both patients and health professionals.
Professor Julie Leask, a vaccination expert at the University of Sydney, said the details released by the Health Minister on Friday were "extremely promising".
"I'm very, very pleased with the leadership Minister Hunt is showing in response to these calls, it's a glimmer of light from the federal government that they're listening to what the experts are saying here," she said.
Loading
The scheme aims to be a one-stop shop, providing indemnity coverage for any health professionals administering COVID vaccines and allowing people who are seriously injured by the vaccine to go through a single channel to gain compensation without pursuing it through court.
Details of the scheme were still being finalised, but the government was looking at international models and existing Australian schemes with vaccine manufacturers and is likely to include tiers of payments depending on the level of injury.
"Proven claims will be able to receive appropriate compensation without the need of formal court processes," a spokeswoman for the Health Minister said. "Potential claimants accessing the scheme will still have the option of pursuing action through a court judgement if that is their preference."
The scheme will be backdated to the beginning of the rollout on February 22, and cover the period of the pandemic.
Professor Leask, who has been among a group of Australian experts advocating for such a scheme for decades, said she hopes the scheme will become permanent as other vaccines in the national immunisation program can also lead to rare, serious side effects.
"We sincerely hope that the scheme would eventually be extended to other vaccines," he said.