If found guilty, Weisselberg would not be the first person to take the fall for shady behaviour in Trump's business and political operations.
In 2018 Trump's former personal lawyer and "fixer" Michael Cohen was sentenced to three years in prison for tax evasion and violating campaign finance rules by making "hush money" payments to women who said they had affairs with Trump. Cohen said he did so at Trump's direction, but Trump has not been charged over the matter.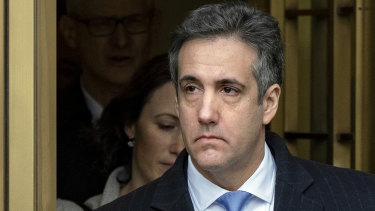 The Muller investigation saw Trump's former campaign chief Paul Manafort, foreign policy adviser George Papadopoulos and longtime friend Roger Stone sentenced to jail. But Trump emerged essentially unscathed from a probe he labelled a "witch hunt". (Trump pardoned all three shortly before leaving office.)
If Trump's company is found guilty of tax fraud, it will have to pay a fine of up to $US250,000. That would certainly be an embarrassing outcome for Trump.
But it wouldn't fundamentally change how anyone perceives him. Democrats already believe he's a conman and a crook. Meanwhile, most Republicans would agree with him that the charges were politically-motivated. And they'll ask: isn't it common practice for business owners to cut corners and do some things "off the books"?
Even Trump's most loyal supporters don't regard him as morally-pure; they see him as someone who says what he believes and gets the job done.
Ever since Trump declared he was running for office, his opponents have been waiting for the emergence of a deus ex machina – a game-changing scandal capable of ending his political career once and for all.
The Access Hollywood tape scandal didn't do it. Neither did the Mueller investigation. Neither did his two impeachment trials: Trump was acquitted by the Senate both times. Despite losing last year's election and fomenting the January 6 Capitol riot, Trump remains the Republican Party's figurehead and the frontrunner for its 2024 nomination.
So far, the New York investigation and resulting criminal proceedings haven't delivered a mortal blow to Trump's career.
We don't know where the legal story ultimately ends and there will be twists along the way. But for now Trump remains a free man with a realistic shot at returning to the White House in just a few years.
Get a note direct from our foreign correspondents on what's making headlines around the world. Sign up for the weekly What in the World newsletter here.