Cycling's crown jewel is a bit like a babushka doll. Every stage of the Tour de France is a race within a race.
The Tour – involving 23 teams of eight riders each – is comprised of 21 stages raced over 23 days. The terrain of each stage varies to suit the peloton (the main pack of riders), which is made up of sprinters, climbers, time triallists, domestiques (support riders), and super domestiques (the lead riders' main lieutenants), all of whom have a job to do for their team – whether it be winning, themselves, or supporting a teammate to victory.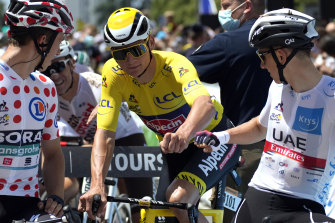 This year's Tour features 27 mountain passes, climbs, or summit finishes, eight flat stages, five hilly stages, six mountain stages, and two individual time trials.
There is the competition for the stage wins, and then within that a long-term game for four classifications that are decided on the last day – July 18. In every stage riders competing for one of the classifications have opportunities to improve their position on the leaderboard. For the green jersey, that may be sprinting for maximum points at an intermediate sprint "prime", and at the stage finish. For a yellow jersey contender, that would be staying safe on flat stages so they don't get caught in a crash and lose time, and then, on a mountain stage, climb the quickest, for example.
The leader in each classification wears that jersey (yellow, green, polka dot or white) during the race, and whoever is at the top of the table when the race returns to Paris takes that jersey home. Current national road champions competing in the race wear their country's colours on their Tour team's jersey, while the reigning world champion's jersey features distinctive horizontal stripes.
Slovenia's Tadej Pogacar won the yellow, white, and polka dot jerseys in last year's Tour.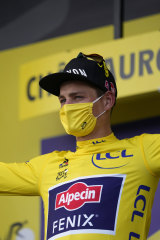 Yellow jersey
General time classification
The yellow jersey, or maillot jaune, is won by the race leader and eventually awarded to the winner of what is known as the general classification. The Tour winner is the person who has the lowest cumulative finishing time at the end of the three-week race. The winner will receive €500,000 (AUD $792,993.52), with second and third place taking home €200,000 ($317,197.41) and €100,000 ($158,598.70) respectively.
Contenders: Tadej Pogacar (Team: UAE Emirates), Primoz Roglic (Jumbo-Visma), Richard Carapaz (Ineos Grenadiers)