End of season trips are a thing of the past but I still believe it can be valuable for a team to spend time together after a poor season, and I'm not talking about players getting out of control or into trouble.
I remember at the end of 1998, the CEO of the AFL at the time, Wayne Jackson, wanted the All-Australian team to travel together to Ireland. It came fresh off the back of us losing the '98 grand final at North. If push came to shove, I was willing to miss captaining my country in order to go on the North footy trip, but thankfully Wayne let me join the Australian team later, and I ended up rating that Ireland tour as one of the highlights of my career.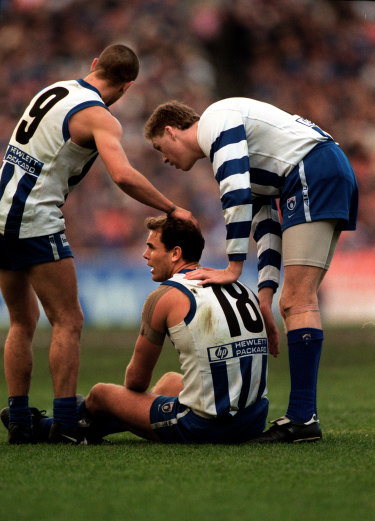 There was genuinely a part of me that felt, as a group, we needed closure and that, as North captain, I needed to be there. Who knows how much difference it made leading into 1999 when we won the premiership, but at very least it meant we put any regrets behind us.
Right now, are we going down the American path? The very best past and present players in the NBA, for instance – Michael Jordan, LeBron James and so on – play their part on the court and then do their own thing. They have their own cliques. American sport is so much more individualised.
For the clubs that have had to hit the road because of COVID outbreaks, spending that extra time together at this stage of the season might not be such a bad thing.
Collingwood under Mick Malthouse always seemed to play well on the road because of the camaraderie of the group. They stayed, fought and celebrated together.
While every AFL club is currently facing its own COVID challenges, there's no reason they can't turn those challenges into positives.
It's an old school mentality, but it can be applied in a modern sense – particularly if you have the right leaders at the top. This is not to say David Teague, Brett Ratten, or Robert Harvey should unleash their players for a week-long bender instead of training.