"It's beyond a crisis," he said. "The mismanagement has led us to where we are today."
The roots of the current breakdown within Ghani's administration are threefold, officials and security experts say: the delusion of security provided by the Americans, whose determination to leave was never fully believed by civilian or military leadership; the tactical disconnect between conventional Afghan forces and the more nimble guerrilla Taliban; and the reduction of the government to Ghani and a handful of aides, foreign-educated, some with families safely abroad.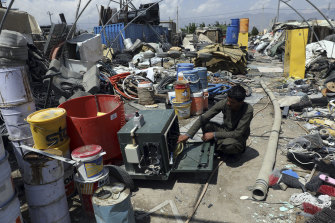 More than one-quarter of the country's 421 districts have been seized by the insurgents since early May, in a sweeping campaign that has largely targeted Afghanistan's north and even seen some provincial capitals besieged by Taliban fighters.
In some places, government forces are surrendering without a fight, often because they have run out of ammunition and the government does not send more supplies or reinforcements.
Recent days have seen government forces regain control of key districts in the northern city of Kunduz. But more than a dozen additional districts have fallen.
Loading
Humvees, weapons and piles of ammunition have fallen into Taliban hands, much of it paraded triumphantly on videos released on social media by the group's propagandists.
Yet the government seems detached from the onslaught on its soldiers and citizens.
Not a single official showed up last month to a memorial for the nearly 70 schoolgirls who were killed a suicide bombing attack in Kabul in May. Grieving mothers wept quietly into their black robes; the government sent a bare handful of police officers to protect the mourners, vulnerable members of the Hazara ethnic minority, like the victims.
Accordingly, citizen militias are on the rise again in Afghanistan, with various ethnic and regional factions stirring up a volunteer effort to defend themselves against the Taliban's advance.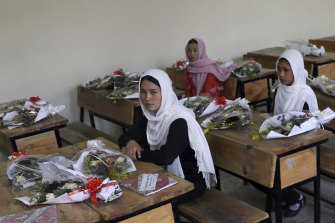 Officials inside the government, along with those who have left it, describe an atmosphere of improvisation, a bureaucracy caught off guard despite weeks of warning signs and the absence of a coherent plan.
Public pronouncements are largely limited to ringing denunciations of the Taliban and vows to defeat them, with no hint as to how the government intends to do so. As a result, Afghanistan's citizens are in the dark, worried and rapidly losing whatever confidence they may once have had in Ghani.
"There is no response. They don't have a counteroffensive strategy," said Asey, the former deputy defence minister. "Nobody knows what it is."
Loading
If there is a military strategy, it is not apparent to the soldiers on the ground.
After the capture in mid-June of an army base at Andar, in Ghazni province south of Kabul, a provincial council member noted that the besieged fighters had begged for help. "No one heard their voice," said the council member, Amanullah Kamrani. The soldiers were all but abandoned to the Taliban. Five were killed and the rest surrendered.
Inside the presidential palace, Ghani has continued to isolate himself.
Current and former aides to the President say he rises at 5.30am to read a stream of reports, consulting with a handful of close aides and working until late into the evening. He has long had a problem with insomnia, they say, chopping up his days and nights into bursts of work interrupted by naps.
Several former aides criticised the president's reliance on a tiny circle of Western-educated advisers. They noted that Cabinet members were afraid to contradict him because of his tendency to yell at them.
"He is the republic," said Zakhilwal, the former finance minister. "The government is two, three, four faces."
"A soldier sitting there, watching, asks, 'Should I sacrifice my life?'" he added. "That's why we are seeing soldiers surrendering across Afghanistan."
The New York Times