Franklin is the more freakishly physical specimen — no one of his size should be able to snap banana goals and outpace the quickest small men. But Rioli's moves, his ability to extricate himself from tight spots and then use the ball, probably gave him the aesthetic edge. These guys must be close to numbers one and two in the competition for watchability.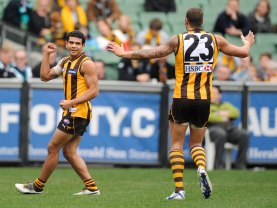 David Hale, who has crossed over from North, was in close proximity to the superheroes yesterday, and has enjoyed watching these "freaks of the game". Hale said of Cyril: "It's not only the goals he kicks . . . he's probably the best tackler in the comp and the way he can get around and front and square.
"The crowd definitely enjoys it when Cyril's about . . . whether it's a run-down tackle or kicking his banana goal, he's got all the tricks."
Rioli had a dozen tackles and his best moment was actually a combination of brilliant defensive play and offensive wizardry. Kane Cornes, who is playing extremely pedestrian football, was tackled front on by Rioli, who jarred the ball loose, snatched it and slotted a goal from near the boundary. The speed of the dispossession was startling.
Alastair Clarkson, not given to overstatement or heaping praise on individuals, said of Rioli: "He was pretty special. We went into the game thinking Port didn't have a lot of guys that could play on Cyril in their back half, but you never expect a display like he performed today. But that's really good for him. He hasn't kicked six goals in a game before."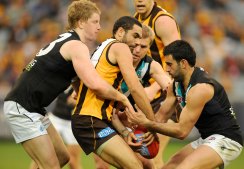 The most ominous aspect of Franklin's game wasn't the accuracy of his left boot, or the trademark goals he kicked from the "wrong" side for a lefty. It was his marking. Franklin has just about the whole package, barring the fact that his hands above his head aren't super.
So, when Franklin starts clunking overhead marks against two players, as he did twice yesterday, other opponents should be worried. Clarkson said contested marking was important and that Hale was playing an important role alongside Franklin.
Hale, certainly, has been a handy replacement for Jarryd Roughead and foil for Franklin. Hale said of Franklin: "It's been a good sign for us that we've still been winning when he hasn't had that really big impact on the game. He's a pretty confident player and that will only help him."
Loading
FAST FOOTY
HAWTHORN
8.1 17.4 23.6 31.11 (197)
PORT ADELAIDE
0.2 2.2 5.2 5.2 (32)
GOALS
Hawthorn: Franklin 8, Rioli 6, Smith 2, Lewis 2, Breust 2, Mitchell 2, Sewell, Whitecross, Bateman, Hale, Birchall, Hodge, Shiels, Bailey, Suckling.
Port Adelaide: Hitchcock, Rodan, Butcher, Schulz, Banner.
BEST
Hawthorn: Rioli, Franklin, Mitchell, Lewis, Shiels, Smith, Puopolo, Suckling.
Port Adelaide: Cassisi, Gray, Jonas.
INJURIES
Hawthorn: Sewell (back).
Port Adelaide: Boak (back).
Loading
UMPIRES
Schmitt, Keating, Armstrong.
CROWD
27,532 at MCG.
BELIEVE IT OR NOT
The most unbelievable fact about yesterday wasn't the scoreline, which was almost predictable given Port's pitiful state and Hawthorn's potency. In round 18 last year, Port beat the Hawks by six points. The extent of Port's decline since then is alarming. The club has taken umbrage at comparisons with the dying Fitzroy, and while it's right about the different landscape — the AFL supports clubs much better these days and it has the South Australian government in its corner — the on-field results over the past fortnight in particular have been worthy of comparison with Fitzroy in 1995-96.
PORT'S BACK-TO-BACK
The 165-point margin beat Hawthorn's previous best of 160 against Essendon in 1992 and easily eclipsed last weekend's 138-point defeat by Collingwood. Hawthorn's 197 points was the highest score Port has conceded in its almost 15 seasons in the AFL. In the past few weeks, Melbourne has been beaten by 186 points, the Suns by 150 (both by Geelong at Geelong) and then Port's "double" of the Collingwood and Hawthorn games.
FRANKLIN'S WRONG SIDE RADAR
"Buddy" has had some accuracy issues, but yesterday he didn't look like missing. One quirk of his high conversion is that the majority of his angled shots were taken from the "wrong" side for a left-footer. Franklin's "natural arc", it seems, gives him the unusual ability to fade the ball from right to left.