Kyrgios also hinted he would not take part in Australia's Olympic campaign, despite being named in the squad by Tennis Australia.
"If I'm to play the Olympics, I want to do it the right way," he said.
"I want to do it with full crowds, with my guests there. I want to do it when I'm able to watch other athletes do their thing. That's the Olympics for me. The Olympics, the way it's going to go on, is not the Olympics."
'You know she's lying, right?'
Kyrgios wasn't the only Australian that fought for a spot in the second week overnight.
Ash Barty cruised to a comfortable, 6-3, 7-5 win over Katreina Siniakova but all eyes were on another Australian.
Ajla Tomljanovic equalled her best result at a major by surging into the Wimbledon fourth round, but her victory over Jelena Ostapenko was shrouded in controversy.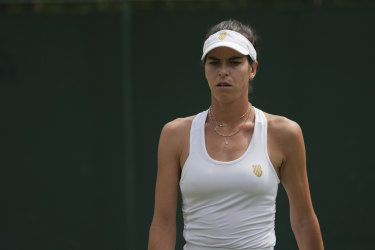 Tomljanovic was well on top of the 2017 French Open winner in the third and deciding set when her 24-year-old opponent called a medical time-out for an apparent abdominal injury.
The 28-year-old Australian was immediately suspicious of Ostapenko's tactics.
After losing seven games in a row, Ostapenko went to her courtside chair and said to the chair umpire: "I cannot continue. I have pain."
Tomljanovic, however, made a plea for the court supervisor to attend.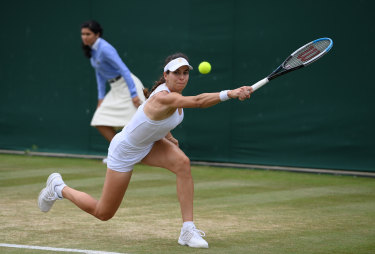 "You know she's lying, right? We all know," Tomljanovic said.
"Are you taking into any consideration that she looked fine?"
Tomljanovic continued to be annoyed by the situation and they were eventually able to resume the match after an 11-minute delay in which Ostapenko received treatment off-court.
The world No.75 closed out the victory, 4-6, 6-4, 6-2.
At the net, the clear angst between the players continued as Tomljanovic delayed their handshake.
"Your behaviour is terrible, terrible," Ostapenko said at the net.
"You're the one to talk," Tomljanovic responded.
"You have zero respect, yes?" Ostapenko replied. "The worst player on the tour."
Post match, Ostapenko continued her rant.
"In my opinion it was very disrespectful from her side," she said. "If I had played at least 50 per cent, I would have beaten her."
Tomljanovic later said to be called disrespectful was laughable and that Ostapenko's behaviour had been disgraceful.
"For her to call me disrespectful at the end of the match is just, at that point, it's laughable. I think it's disgraceful behavior from someone that is, you know, is a slam champion, because kids look at her and, what, they see that? I'm sorry, if she was injured, she could have gone about it in a way better way."
Asked if there should be a rule to stop players from using injury timeouts as tactics, Tomljanovic said yes, but didn't know how it could be legislated. She said it largely came down to good sportsmanship.
But she said her feelings about winning eclipsed any drama that came out of the incident with Ostapenko.
"My feelings towards winning exceeds any drama that happened, because for me it's a huge moment in my career, especially with everything that I have been through. I'm extremely happy to be in the fourth round for the first time, especially here in Wimbledon."
Tomljanovic will play British wildcard Emma Raducanu in the fourth round. The 18-year-old had not won a Women's Tennis Association match prior to the start of the tournament but has quickly become a hometown hero.
Loading
While a career best result for Tomljanovic was shrouded in controversy, Barty's win was relatively straightforward.
Barty will face French Open champion Barbora Krejcikova in the fourth round.
"Another great challenge. I'm very privileged to be in the second week of Wimbledon again, genuinely one of my favourite weeks of the year," Barty said.
"Barbora has been playing some incredible stuff and I've never played her before, so it's going to be a new one."
Jordan Thompson and James Duckworth could not join Barty and Tomljanovic in the second week, falling in straight sets to Ilya Ivashka and Lorenzo Sonego, respectively.
In other notable results, Roger Federer beat local hope Cam Norrie to become the oldest player – at almost 40 years of age – to reach the second week at Wimbledon since Australian legend Ken Rosewall in 1975.
It's the 69th time the Swiss master has reached the second week of a grand slam.
Elsewhere, second seed Daniil Medvedev came back from two sets down to force his way into the fourth round, fourth seed Alexander Zverev beat American Taylor Fritz, and rising Italian star Matteo Berrettini continued his hot form.
With Scott Spits