A contentious free kick to King for a hold by Roughead is paid right in front of goal.
Despite his goalkicking woes this year he converts.
Q2 COLL 8 StK 25
Pies need to give a little more going forward, although their conservative approach has kept them in the game.
Stopping Brad Hill would be handy.
Q2 COLL 8 StK 19
The Saints lead 19 to 8 at the first break.
Brad Hill playing a cracking game, he has had 14 touches (92 per cent effective), three clearances and three inside 50s.
Potentially his best quarter as a Saint. Pies dour and on the back foot but did well to keep it to three goals.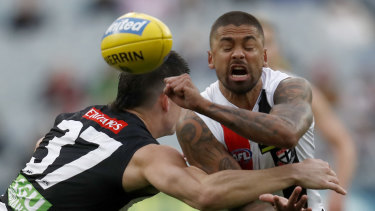 Jack Higgins with a nice goal! Great work from the Saints to pierce the Pies defences there.
The run and kick from Brad Hill was really important. He is having a superb game is Hill.
Q1 COLL 8 StK 19
It goes to Daniel McKenzie, who is on the end of a handball chain in an open 50m zone for the Saints.
A very weird one. Grundy marked, passed the ball onto Sidebottom but he did not gather the ball. He signalled he didn't want advantage (maybe? even though it wasn't a free?) but the Saints grabbed the ball anyways and strolled into goal.
Hard to know what anyone was doing there. Grundy, Sidebottom and umpire included.
Q1 COLL 7 StK 13
Such a skillful player is Jamie Elliott.
Open forward line, ball goes out the back and Elliott turns his man then gathers and snaps it through.
Pies first forward 50 entry results in their first goal.
Q1 COLL 6 StK 6
The post below sprung them into action.
A nice gather by Tim Membrey is followed by a snap.
The ball has been locked in St Kilda's attacking 50 and they get their reward.
Q1 COLL 0 StK 6