Harvey hinted that the Pies would look to reward VFL form at the selection table.
"You just look, from an integrity point of view, who earns the right. Our VFL had a good win today so there are guys in form there, some young guys in form and some experienced guys who played well."
With Jeff Browne set to challenge Mark Korda for the club's presidency, a group of Pies fans are calling for an extraordinary general meeting, which would bring forward an election.
Loading
However Vic Nicholas, one of the group's leaders, says the club has "abrogated its responsibility" to provide a list of members to the group for cross-checking. The Pies did not respond when contacted about this issue on Sunday.
"What needs to be asked of Harvey now in this role is, what are we trying to achieve with these players for the rest of the season … I don't care if we don't win as we aren't going to play finals but what I want to see is the future," Shaw said.
"We know there is going to be a board challenge, we need this quicker now. We need to get settled so we can get to the draft … it has got to happen, it just can't go to the end of the year with this rabble how it's going."
Josh Daicos hurt his finger in the final quarter and will be assessed.
"We'll get that looked at overnight. Dislocation but possibly some sort of fracture," Harvey said.
Mason Cox was OK despite a third-quarter injury scare.
Meanwhile Saints coach Brett Ratten said he was concerned with his side's second major fadeout in three games.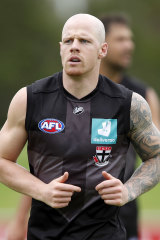 "I thought we played really good football for the first three quarters but then [the end] left a pretty sour taste in our mouth, it sort of had a little bit of the Adelaide game, similarities in that game," Ratten said.
He said he didn't yet know for sure where the Saints' game against Brisbane next week would be played.
However St Kilda, just two points and percentage outside the eight, are set to be buoyed by the return of Zak Jones from a serious quad injury.
"Zak Jones will be available next week, which will be great. Whether we pick him at senior level or wait and play him at Sandy at the VFL and monitor him there, we'll have that discussion during the week," Ratten said, adding that veterans Shaun McKernan and James Frawley were also closing in on returns.
Harvey said he didn't yet know when next weekend his side would play Richmond.
Keep up to date with the best AFL coverage in the country. Sign up for the Real Footy newsletter.