Police have fined more than 80 people in 24 hours across NSW for failing to comply with strict public health orders, including three Sydneysiders who were found in the Central West town of Dunedoo.
Two men and a woman were fined $1000 by NSW Police on Saturday after officers found their unregistered car parked in a 'no stopping' zone in Dunedoo, northwest of Dubbo, where they had booked one night in a local hotel.
As the state recorded 16 new cases of coronavirus, NSW Police fined more than 50 people for failing to wear masks, while also booking a carload of Maroubra locals near Little Hartley.
Two women, aged 23 and 25, as well as two 25-year-old men were fined $1000 dollars after police pulled their car over on the Great Western Highway on Saturday morning.
The owner of a Mascot fruit shop was also fined for failing to use QR codes, while staff in a Bowral store have also been changed for refusing to wear masks.
Victoria continues to list Greater Sydney including the Central Coast, Shellharbour, Blue Mountains and Wollongong as red zone under its travel permit system.
Any Victorian resident wanting to return home will need to apply for a travel permit and those granted need to go straight to their home or accommodation and quarantine there for 14 days, they will also need to take a COVID-19 test within 72 hours of returning to the state.
Victoria has designated a number of locations as orange zones including the Perth metropolitan region, the Peel region in WA.
For more info, visit the Victorian government's COVID website here.
The WA and Queensland locations were changed to orange zones at 1am on Sunday, while the ACT and remaining NSW LGA are also listed as orange zones.
Deputy Chief Medical Officer Professor Michael Kidd says pregnant women are yet to be listed as an at priority group for COVID-19 vaccinations while there is no timeframe for clearing children under-16 to receive a vaccine.
Professor Kidd was asked about both those issues in his Sunday press conference. He said the Australian Technical Advisory Group on Immunisation (ATAGI) was still looking a number of potential at risk groups.
"At risk groups continue to be looked at each week by ATAGI and it has provided advice for pregnant women, women who are breastfeeding and talked about increased risks," Professor Kidd said.
"But we may need to wait for the advice from ATAGI as to whether pregnant women themselves become one of the risk groups for earlier priority vaccination."
Professor Kidd said no vaccine was cleared for children under-16 yet despite some health officials starting to call for children to be included in vaccination rollouts given new strains of COVID-19 were infecting children.
"There is continuing research happening around the world, looking at safe and appropriate vaccines for use in younger people. We need to wait for that advice to come through," Professor Kidd said.
"I certainly hope we will have protection available to people sooner than 2022, but it really depends on the research and developments around the world."
Deputy chief medical officer Professor Michael Kidd says select GPs around the country will start to offer Pfizer vaccine doses from Monday.
The Pfizer vaccines will be available to eligible patients, including people aged 40-59, with 500 practices starting to have the vaccine this week.
Professor Kidd said this month 800 GP practices are expected to come online with the Pfizer vaccine as well as the AstraZeneca vaccine.
"During this month, another 800 general practices will come online with the Pfizer vaccine as well as the AstraZeneca vaccine," Professor Kidd said on Sunday.
"This includes many Aboriginal community controlled organisations, which will be offering the Pfizer vaccine progressively through July and August."
Professor Kidd said a further update of national vaccine rollout numbers will be available at a press conference on Monday.
NSW Health has published a new list of contact venues across Sydney, including several supermarkets and a TAB.
Close contact venues are listed as the Ostar International bathroom supply store in Revesby on Saturday June 26, a Commonwealth Bank branch in Roselands on June 28, 29 and 30 and Bendo's Premium Meats in Five Dock on June 29.
All passengers on Flight VA524 between the Gold Coast and Sydney on June 26 are now also classified as close contacts, with NSW Health confirming several transmissions occurred during the trip.
Casual contact venues include the TAB in Gladesville on Saturday June 26 and Randwick Coles on Belmore Rd on June 28.
Here's the full list:
NSW Premier Gladys Berejiklian says residents in her state want the national cabinet to set a timeline and target for getting the nation vaccinated.
Ms Berejiklian is pushing for NSW to reach 10 million jabs, or 80 per cent of adults vaccinated.
"I think citizens of our state and our nation would like timelines. And I've made that position clear," Ms Berejiklian said on Sunday.
"I welcome the four-phase program. It's in line with what NSW has been saying for a long time. But I also think the public would like to see some time frames, and I look forward to being part of those discussions.
The Doherty Institute is preparing models of what vaccination targets Australia needs to reach before being able to open up further. Ms Berejiklian is happy to review her target for the state once that advice is available.
"The figures that have been used are of the entire population [of Australia]," she said.
"I have been very specific to say, when NSW hits that 10 million jabs, we can start considering other matters.
"But if national cabinet has determined a unified approach across the nation, I'm more than happy to support what that unified approach is, but I think we need to be ambitious and we also need timelines to give to the community."
Things run smoothly until the GP's receptionist tells the patients that the inoculation they'll be getting is the AstraZeneca vaccine.
"No I don't want that," they'll say. Some yell or scream.
This suburban doctors' clinic in Melbourne doesn't even have the Pfizer vaccine stocked, but the older woman on the phone is accusing the receptionist of lying, saying "I know you have the vaccine and you're deciding who to give it to".
Throughout the pandemic, GP receptionists and administration staff have been at the receiving end of much of the public's anxieties and frustrations. They are also among the best placed to provide insight into people's changing attitudes to coronavirus and vaccines and the impact of a string of unexpected announcements.
Read the full story here.
The boss of a Sydney aged care home where three residents contracted COVID-19, days after two workers tested positive, says two-thirds of staff at the facility are unvaccinated.
Three elderly residents, aged in their 80s and 90s, at SummitCare Baulkham Hills tested positive to coronavirus on Saturday. Two have been taken to hospital as a precaution. All three were fully vaccinated.
SummitCare chief operating officer Michelle Sloane said on Sunday about 96 per cent of residents had received both Pfizer jabs, while one-third of staff had been vaccinated. She believed one of the workers who had the virus was unvaccinated.
"We have made a decision with public health that they will be vaccinating staff towards the end of this outbreak," Ms Sloane said.
"We have been advised that to do it now it might be of no benefit to everyone and, if anything, it will mean they suffer from side effects from the vaccine and we lose more staff.
"So we can't afford to do that now because we have had to furlough at least 70 per cent of our registered nurses … A lot of our staff have been sent off to isolate."
She said most of the facility's night-time workers had gone into lockdown for 14 days and the unit was largely being run by a surge workforce. Staff had been sticking to the same unit and had not worked outside the facility.
About 144 staff – roughly 70 per cent of the workforce – were currently isolating at home. Staff at the facility are being tested daily, and the three positive cases were detected from tests of 226 staff and workers on Saturday.
"I think no-one saw this Delta strain coming. As we know, it is all through the community at the moment, we have been the unlucky ones that have gotten it into our aged care facility."
Ms Sloane said all residents were isolating in their rooms and the people who contracted the virus, including the two in hospital, were "all very comfortable".
"The third resident, who shares a room with his wife, his family opted not to send him [to hospital] last night because they did not want to separate them and his wife had tested negative.
"But that will be reassessed today. Ideally, it would be better to have all three in hospital."
Western Australia has recorded one new case of COVID-19 overnight.
The man is the partner of case 1023, a woman who attended the Mobius Health and Performance gym in Joondalup.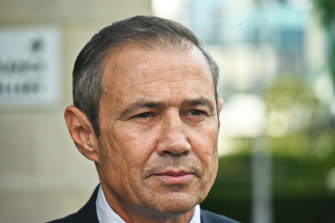 WA Health Minister Roger Cook on Sunday said the man had originally tested negative for the virus but became symptomatic on July 1 and returned a positive test on Saturday.
While Mr Cook could not give further details about the man, he confirmed he had been in quarantine since June 26 so not of any real concern.
Mr Cook said West Australians should continue to get tested and vaccinated if eligible.
Restrictions remain for Perth and Peel residents, including compulsory mask-wearing indoors and outdoors and seated service only at venues.
Household gatherings are limited to 10 visitors and venues must adhere to a 20-person limit.
The first stage of slightly relaxed restrictions are in place until 12.01am on Tuesday, before a six-day period similar to the 'phase 1' rules to run until July 12.
Pending no further community cases, the Perth and Peel regions could go back to pre-lockdown life on July 12 from 12.01am.
A number of St George Illawarra players are under investigation for a potential biosecurity breach involving a reported house party hosted by one of its star players.
NSW Police and the NRL integrity unit are looking into the matter, which comes after a torrid fortnight for the game with five Bulldogs players and Cronulla star Josh Dugan ordered into isolation for ignoring NRL directives or biosecurity protocols.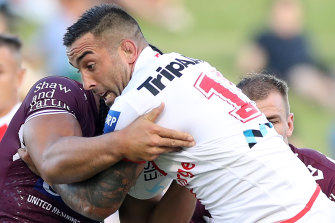 On Sunday morning, the NRL integrity unit was trying to determine how many players were at the gathering.
All NRL players are under level-four biosecurity restrictions to keep the competition alive during Sydney's COVID outbreak, which largely prevents them from leaving their homes unless playing or training. They are not allowed to have any visitors at their homes.
Read the full story here.