The comments come after Victoria recorded no new local cases of coronavirus on Monday. There were 20,690 tests processed in the past 24 hours, and more than 13,000 vaccine doses were administered. Two cases of COVID-19 have also been recorded in hotel quarantine, bringing the total active cases across the state to 23.
Mr Weimar said he expected an "announcement by Thursday" on what the next stage of restrictions would look like.
St Kilda venue fined more than $10,000
The state's daily figures come after Riva bar in St Kilda was fined $10,904 by Victoria Police after footage posted on social media showed a crowd of mask-less patrons dancing in close proximity under a marquee on Saturday night.
Mr Weimar described the events as "hugely disappointing". He said there was no approval for "1000 dancing around without masks on".
One Melbourne talkback caller said party-goers at the venue were dancing "right on top of each other".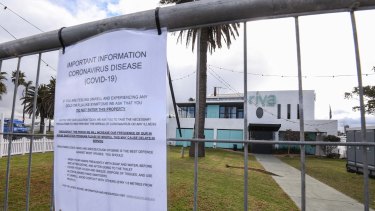 "The rules did say to bring a mask with you – I had one in my pocket," John told 3AW radio. "But it was never enforced that you had to wear a mask.
"From what we knew it was going to be a little party. I thought it would be quite restricted."
Mr Weimar said individual fines would likely not be handed out to attendees.
"I've got no intention of putting our scarce resources at penalising people who went to a party that shouldn't have happened in that way," he said. "I think all of us have worked collectively as Victorians so hard over the last six weeks… is a little bit frustrating to put it mildly."
Loading
"I hate to sound like a headmaster … the consequence is we will run fewer events and I don't think anybody wants that."
Under Victoria's current restrictions, nightclubs are allowed to operate with seated service and density limits – dance floors are still not permitted.
On Sunday, Victorian health authorities warned holidaymakers returning from interstate trips to check if they've been in red or orange zones – particularly around Greater Sydney, the Central Coast, and areas of Greater Brisbane.
Meanwhile, NSW recorded 35 new COVID-19 cases on Monday as Premier Gladys Berejiklian warned the next couple of days would be "absolutely critical" in determining whether Greater Sydney's lockdown is extended.